File Details

File Size
15.5 MB
License
Freeware
Operating System
Windows 7/8/10
Date Added
November 4, 2021
Total Downloads
9,523
Publisher
Astonsoft Ltd.
Homepage
EssentialPIM
Other Versions
Publisher's Description
EssentialPIM handles all your scheduling, contacts, to do lists, and notes with easy-to-use, intuitive tools.
This absolutely free personal information manager can store, manage and encrypt data: day/week/month/year schedules, to do lists for keeping all your tasks up-to-date, notes (pictures, tables, any formatted text), and contacts. Offers Rijndael 128-bit encryption, MS Outlook import/export, search capabilities, versatile print features, and adjustable contacts storage with unlimited fields. Works straight from USB flash drives.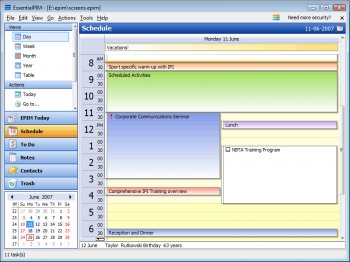 View Full-size
Latest Reviews
epim1 reviewed v3.01 on May 23, 2009
Hello, I represent developers.
Blaxima, NOD32 has a false positive on this one. EPIM does not include any adware or malware.
mchargue, You can download NON-U3 portable from our website.
mchargue reviewed v3.0 on May 20, 2009
Like the app, but don't like that the portable version has to be installed on a 'U3'-compliant USB memory stick.
Blaxima reviewed v3.0 on May 20, 2009
Well this is a first. I've had my problems with this software but when it works its pretty good

BUT Nod32 says;
"http://downloads.essentialpim.com.s3.amazonaws.com/essentialpimport3.zip
probably a variant of Win32/Statik potentially unwanted application connection terminated - quarantined Threat was detected upon access to web by the application."

Its' probably some adware they have bundled but other things have adware and don't elicit this response and this never has either so....
zeeZee reviewed v2.81 on Nov 14, 2008
Excellent. Searched through alot of these and wound up with essentialpim portable. am notebook lite is very good also.
Blaxima reviewed v2.02 on Aug 12, 2007
Still the same problem that I said earlier
"I find random blank boxes for some of my repeating tasks.

WTF!!!"

and to think you can pay for this and get even more sh8 for your buck
djurbino reviewed v2.02 on Jul 26, 2007
There's a non-U3 portable version available at the website:

http://www.essentialpim....d/essentialpimport2.zip
Blaxima reviewed v2.01 on Jul 10, 2007
Well it seems I stand corrected. I said that it only showed blank boxes for my old databases but after redoing EVERYTHING in a new one I find random blank boxes for some of my repeating tasks.

WTF!!!
anomoly reviewed v2.01 on Jul 10, 2007
Works great. Very polished. Being stuck with email I simply use tbird portable with the lightning plugin.
Grand_Reviewer reviewed v2.0 on Jul 6, 2007
I have the same issue as Blaxima. The empty task boxes is so damn annoying. I also don't like the new interface that much, but I guess that's because I'm so used to the old v1.95 interface.

I also liked some old v1.95 quirks, such as clicking on the calendar date and then using the arrow keys to scroll through the calendar with the tasks all displaying as change dates. The new version doesn't have this quirk.

My biggest problem however is the empty task boxes upon database conversion. This is such a big issue for me that I'm sticking with v1.95 until its v2.0 reaches about v2.5, by which time I've sure they will fix this problem.

Good work on the new version, but its just not as fast and reliable as the old version. When I save and load from USB, the old version is so much faster, its easily noticeable.
Blaxima reviewed v2.0 on Jun 27, 2007
This has always been a 5 BUT when I load an old database it converts it with no troubles until I restart the program. The boxes for the tasks are there but no text and when I click them it has no info on the task. A mistake like that shouldn't be in an alpha version let alone a "finished" one.

Works fine with databases it creates but no dice on my old ones, thanks alot