File Details

File Size
46.9 MB
License
Shareware, $39.95
Operating System
Windows 7/8/10
Date Added
November 4, 2021
Total Downloads
31,462
Publisher
Astonsoft Ltd.
Homepage
EssentialPIM
Other Versions
Publisher's Description
EssentialPIM handles all your scheduling, contacts, to do lists, and notes with easy-to-use, intuitive tools.
EssentialPIM Pro is the advanced version of Personal Information Manager that will handle all your calendaring, contact, to do, and notes needs in an easy- to- use, manageable form. Ever dreamed of an easy- to- use, but powerful interface? Try EssentialPIM. All data can be easily imported or exported or even synchronized to Outlook, iPOD, Palm, Windows for Mobile, Google Calendar, TreePad. Formats supported: HTML, RTF, CSV, TXT, vCard, iCal.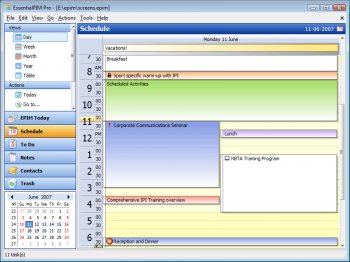 View Full-size
Latest Reviews
uv_catastophe reviewed v3.12 on Oct 26, 2009
Thunderbird+Lighting is nice but it doesn't do everything EssentialPIM does. For one, Mozilla doesn't offer a year-at-a-glance calendar... In fact, I don't think anyone else but Essential does that and I've some to like it so much that it's become by default view for planning. Life doesn't happen in one-month buckets.
Diam0nd reviewed v2.51 on Apr 16, 2008
One of the best and most light PIMs I've seen, as I said below.

Love it
tp reviewed v2.5 on Apr 14, 2008
epim is a great app and continues to improve. I've had nothing but positive experiences and benefits from years of usage and always using the latest betas.
pjb reviewed v2.5 on Apr 12, 2008
Rating the application for what it is for. It does the job it's designed for very well.
comeoffit reviewed v2.5 on Apr 11, 2008
WHY would anyone buy this when Thunderbird with Lightening addon will do EVRYTHING this does, AND email. Jeebus people are stupid.
Diam0nd reviewed v2.5 on Apr 11, 2008
I personally think this is an excellent program. Best of its kind.

Those who say it's bad simply did not check it out.

One point tho: it is EXTREMELLY overpriced and it's getting more and more so...
Metshrine reviewed v2.01 on Jul 20, 2007
As I said before, terrible support coupled with a lack of functionality found in common PIM's leads me to rate this a 2/5.
Metshrine reviewed v2.0 on Jul 5, 2007
This program, while OK in functionality, lacks in support. The developer takes over a week to respond to a basic inquiry be it web based, forum based, or email based. The program lacks many commonalities found in other PIM's at the same price range and lacks the "Polish" I am used to in my applications. 2/5. +1 for program functionality, -3 for support.

Diam0nd, The fact that you claim Do-Org is an "All-but-windows-included tools" app shows you have never used it. It is modular and can have as much or as little functionality as you require. Your "response" seems based on what I TOLD YOU do-org was and not your own experiences.
Blaxima reviewed v2.0 on Jun 27, 2007
This has always been a 5 BUT when I load an old database it converts it with no troubles until I restart the program. The boxes for the tasks are there but no text and when I click them it has no info on the task. A mistake like that shouldn't be in an alpha version let alone a "finished" one.

Works fine databases it creates but no dice on my old ones, thanks alot
Diam0nd reviewed v2.0 on Jun 26, 2007
Well, here is is, v2 final. I guess a lot of people been waiting for this, at least I have been. A lot of work and beta testing has been put into this and I really do think that result is an amazing PIM application.
For those who think I'm in some way associated with EPIM are wrong, I just love the product.
I must say that Outlook is great by itself, especially the 2007 one, BUT try to install it on a pen-drive to carry with you... ;P