Publisher's Description
Eusing Free Registry Cleaner will scan your Windows registry for invalid or obsolete information and provide a list of the errors found. After fixing the invalid entries, your system will be more stable and run faster. For maximum safety, Eusing Free Registry Cleaner will make a backup of the repaired entries. You will be able to restore any changes made using the software by choosing Restore registry backup.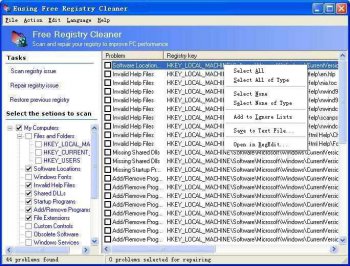 View Full-size
Latest Reviews
Music4Ever reviewed v3.6 on Jan 16, 2015
Unneeded & can cause problems & unlikely to make any difference to speed or stability, that's based on 20 years of faffing with the Windows registry, MS have never recommended so called 'registry cleaning'

The latest changes are 'added some ignore keys' - Speaks volumes!
BANDIT- reviewed v3.3 on Nov 14, 2013
## TEST ONLY ##
Grab the Portable Version if you need a dabble..!!
-http://www.eusing.com/Download/RegCleanerSetup.zip

I have a well established & Trusted Registry App which I have used for years, But I can see the pull of these types of Apps, especially to Noobs &
Guys who can't be bothered to study the Registry, So put their Whole System
in the hands of the Unknown..!!

I took a snapshop (RollbackRx). Ran "MY" reg cleaner, then "THIS" one.
YUP..!! You guessed it. Eusing found about 50 keys that mine missed...

ALL these Damn Reg Apps use different Algorithms. DO NOT be taken by Them.
FIND yourself a Reputable Registry cleaner (IF YOU MUST) & stick with It.
Trying Different Reg Apps, & Removing what they find .. WILL .. Screw your System. Stay Away from all these Registry & Sys Tune-up Apps. Grrrrrrr.!!

Will I be Eusing this App.?? .. (No Fkn Way).. Rolled my Sys back (To Normal) ..lol
2* ... For being an Alternative System Killer................. "Stay Safe Guys"
Eeyan reviewed v2.8 on Sep 10, 2011
Been using this great little util for a while now. Managed to fix a few problems too. Well worth downloading.
HeilNizar reviewed v2.8 on Sep 7, 2011
My only problem with it is that its still not portable.
Author, this is the portable age, installation is old fashion, get that fixed and you get the extra 2 stars.
nilst2006 reviewed v2.8 on Sep 7, 2011
Stay away from registrycleaners, they always take away too much in the registry. The more You run them on a system the sooner You have to re-install Your OS. Registrycleaners often destroy the possibility to use systemrestore.......and if You can't clean up the registry manually then You shouldn't use this either ! Use on Your own risk !
reddy.shyam reviewed v2.8 on Sep 7, 2011
The best of its kind for free. I too have used it on xp and 7. Never had any issues. Just does the job. Thanks to the author.
net_junkie reviewed v2.8 on Sep 6, 2011
I personally have used this on Vista and Win7 and have never had an issue. This is my preferred program to clean the registry. Like all cleaners though, you must back up the registry to be safe. I also use Eusing registry defrag after cleaning.
CyberDoc999 reviewed v2.8 on Sep 6, 2011
bad ..... stay away
my dual monitor quit working after this
Hawk44Gent reviewed v2.6.3 on Sep 11, 2010
I've been using the registry cleaners built in to Ccleaner and Advanced System Care 3 for several years now. They usually find several items every month or two when I run them. I installed the Eusing Registry Cleaner to give it a try. After making a backup of my registry, I was very suprised to see that the Eusing found 425 items in what I had assumed was a pretty clean registry. The Esuing scanned very fast and I had zero problems with it. Gotta love it.
AmpFeare reviewed v2.6 on Feb 3, 2010
works fine, no registry cleaner is *unsafe* just take a few minutes of your time to review the results after the scan and dont delete s*** you know nothing about.