File Details

File Size
1.0 MB
License
Commercial Demo, $69.99
Operating System
Windows 7/8/10/Vista/XP
Date Added
March 5, 2019
Total Downloads
10,921
Publisher
F-Secure
Homepage
F-Secure Internet Security
Publisher's Description
F?Secure Internet Security lets you use your computer to surf the web, shop online, and use Internet banking without worrying. F?Secure Internet Security automatically protects you and your PCs against malware, hackers, and identity theft. Whenever you go online, your banking transactions are secured with banking protection, and you can decide what content your children can and cannot see.
F?Secure Internet Security protects you against existing and emerging online threats. It's very quick to install, simple to use, and it doesn't slow down your computer. When you install F?Secure Internet Security, it cleans your PC so that you get instantly improved performance. You also get F?Secure Search, which pre-screens your search results to ensure your privacy and safety.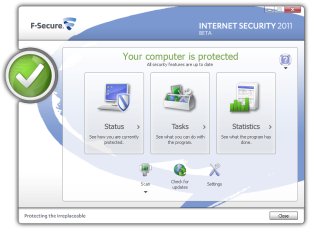 View Full-size
Latest Reviews
daniel02 reviewed v10.12 Build 108 on Mar 4, 2011
Its a good security system & i used it, it really protect my pc from internet viruses & other possible threats.......

_________
daniel02
Free Internet Security
pjb reviewed vIS 10.50 Build 164 Beta on Jun 30, 2010
@been it's beta - and fileforum has the paid status wrong..

Now to review the product!!!
It's a lot leaner than the previous version, and seems to detect a lot more malware. Unfortunately it still uses a lot of system resources.
Not bad for a beta though, room for improvement.
Would rate 3 but to boost from an apparent non tested review will rate 5.
been reviewed vIS 10.50 Build 164 Beta on Jun 30, 2010
180 day timeout isn't freeware
GreenEyesLucy reviewed v10.00 Build 246 on Aug 10, 2009
Alongside the modules offered by F-Secure Internet Security 2010 there are others that should be taken into account. For example the Gamer Mode module offered by BitDefender Internet Security 2009 which provides you maxim of security when playing games. I personally use it and has never disappointed me. Try it and you'll be satisfied too. Very soon will appear an improved version of 2009!
FixXxeR reviewed v10.00 Build 246 on Aug 10, 2009
http://av-comparatives.org/images/stories/test/ondret/avc_report22.pdf

F-Secure does not score anywhere near the top.

I used this back in the day but have since moved on to other products. This program let various different adware and virus infections through undetected which others caught the second they were installed or run from USB Media.

They seem to be improving in the detection rate but are still missing some common infections (any of the .cih variants).
pr1xsel reviewed v2009 9.00 Build 149 on Mar 17, 2009
Some schools use this junk security program what slows down entire PC because F-Secure is badly built ( to many processes , update failures , no version changelog or anything , a lot of viruses get pass the protection and some normal programs get marked as viruses ) recommended to AVOID this!!!
emperordarius reviewed v2009 on Sep 11, 2008
The good:

Very good detection rate.
Very powerful Proactive Protection.
Deep disinfection.

The bad:

Heavy.
Self-Defense is only average.
No whitelist present.
ninjeratu reviewed v2009 on Sep 10, 2008
Terrible. I really wanted 2009 to be better (since it took them years to add Vista 64-bit support...) But this is not good enough by far.

If, and I mean IF, you get it to install properly you'll be a bit disappointed. Especially if you bought this.

The firewall comes with almost no preconfigured application controls for modern Windows (not even some Windows services!) so you have to set those rules. By yourself. It's 2008, F-secure. No excuses for this. To make matters worse the firewall isn't actually very good. It's .. adequate. Or "average", if you're nice, in leak tests. Alarmingly it's incredibly easy for you and malware to turn off the whole security package. This will hopefully be fixed, it smells like a bug.

What malware it will find (about average detection rate) is a pain to remove and you almost always need a 3rd party tool to remove them.

Anti-virus is ok, but for some reason gets a 6% pro-active detection rate in the latest AV-comparatives (for FIS2008, but the engine and base files are the same)! SIX PERCENT. Din't even get a Standard rating, which is terrible.

Spam filter works fine, though I don't really need that.

It's not even cheap.
Avoid.
stopbuggingme reviewed v2006 6.90 on Sep 29, 2006
2006 version has backweb. Although fsecure claim this is safe, it purposely monitors key strokes and mouse movements, and application usage. Fsecure claim this is so the AV doesn't interupt you, but this is clearly a lie as Windows manages the screensaver without backweb, as do third party applications. MS provide APIs for this functionality, so FSecures programmers cannot be up to the standard they claim; I wonder how poor the coding is in the rest of the application. Sloppy standards in one area often indicate poor work elsewhere.
nimtoad reviewed v2006 6.90 on Apr 13, 2006
rebranded, bloatware