File Details

File Size
1.6 MB
License
Shareware
Operating System
Windows 2000/9x/Server 2003/XP
Date Added
June 1, 2005
Total Downloads
2,238
Publisher
Fast Browser
Homepage
Fast Browser Pro
Publisher's Description
Fast Browser is a multi-tab browser designed to expand and simplify the way you surf the Web.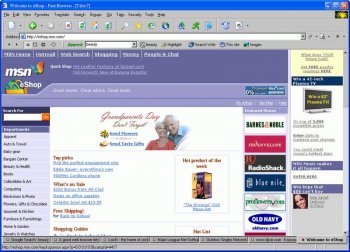 View Full-size
Latest Reviews
mynamehere reviewed v8.1 on Aug 1, 2005
Fast Browser Pro
is now Free!

I've used it for a few years now, and although there are some things that could be added/improved, it's still faster than IE, and some nice features that aren't available in many browsers, I especially like the Translation and tabbed browsing features. I mainly use this and Opera, though I will be trying others as well.
wolseleydude reviewed v6.4.0 on Dec 12, 2003
Too many other free browsers, better functionning and better suited for net surfers. To pay for an internet browser which is not equivalent to MyIE2, Opera, Mozilla, or other better browsers is simply stupid.
rendermaster reviewed v6.4.0 on Dec 12, 2003
FastBrowser is a decent browser, but the reason that others are recommending apps like MyIE2 is that MyIE2 is slimmer, faster, has many more options than FastBrowser, is more stable and ITS FREE! Free software isn't better just because its free, but when a piece of software is full-featured and surpasses other apps that are retail or shareware, it just makes it that much better!
betasun reviewed v6.2.1 on Jun 30, 2003
..good ,its fast like other fast browsers,as fast as MYIE
and netcaptor or avant browser.it has some nice features
that u can customize it with your needs .fast browser is a progressive browser .better than before ,but i dont know why
the rating here is 2 for it .tucows gave 5 ,webattack gave
5 , the rating in all major download sites are 5 .
den lange reviewed v6.1.0 on May 20, 2003
I dont get it....
Severel people say that Fast Browser is shareware and therefore its crap, so people should get MYIE2 insteadt

What is that all about...??
Only complains is that it cost money and other browsers is freeware so they are bettere..

I like Fast Browser and i dont mind paying for it.
Its a GREAT browser, it have all features that i need, its fast and its reliable.

Yes, this isnt the only browser, but its pretty damn good :)
ajaydsouza reviewed v6.1.0 on May 15, 2003
Well paying for this doesn't make sense. You can try CrazyBrowser or Avant Browser. These are freeware alternatives with lots of features.
lachupa reviewed v6.03 on May 4, 2003
ARE YOU CRAZY TO PAY FOR THIS "PROGRAM"??? Ahuahuahuahuahu --- MYIE2 is way way way better. And it's free. Throw this app away, useless for me.
den lange reviewed v6.01 on Mar 30, 2003
I think Fast Browser is one of the best browser avalible.
Yes, theres severel good browser thats freeware, but that goes for all kinda programs.
If you just browse the internet and nothing else, then you should use another browser, but if you wanna do more than casual browsing, then this browser is is a good choise.

I have tried many browsers and i have found 2 that i really like.
Fast Browser & MyIE and i´ll stick to those....
Fijimunkii reviewed v6.0 Updated on Mar 16, 2003
I would much rather just stick with my mozilla. Skinnable, mozilla looks a helluva lot better then that program. It's also had more versions so it's much more compatable. I would rather just stick with something I know works well, not venture into something that's bound to be stock full of bugs.
Ooooops.... 1 star, not five!