File Details

File Size
3.3 MB
License
Shareware, $19.95
Operating System
Windows (All)
Date Added
April 5, 2019
Total Downloads
4,399
Publisher
FastStone Soft
Homepage
FastStone MaxView
Publisher's Description
FastStone MaxView is a tiny, very fast and innovative image viewer that supports all major graphic formats. Its intuitive layout and commands allow everyone, from beginners to professionals, to view and manipulate images quickly and efficiently.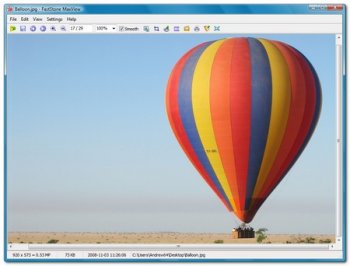 View Full-size
Latest Reviews
drorharari reviewed v3.1 on Feb 4, 2017
FastStone MaxView is a great photo viewer, way better than the built-in viewer provided with Windows. Their free image viewer is also very good but buying this one also helps FastStone pay the bills which is important if you want to get new versions (unfortunately, while they do update the software, they don't provide release notes to it's hard to tell what have changed).
thartist reviewed v2.5 on Jun 21, 2011
I don't see how this one is shareware in windows with it's bigger brother FS Image Viewer being free
A fine and simple image viewer, would be almost the only decent image viewer if it was released as freeware for linux, or the very only one if they ported it's bigger brother. Just a thought...
boony reviewed v2.3 on Dec 7, 2008
My favorite image viewer. Fast and light. A good replacement for Windows Picture Viewer. I especially like the editing feature that allows me to open the displayed image in FSViewer (still free) or Photoshop.

I hope they revert back to freeware, but they haven't in the case of FSCapture.
In the mean time, you can still get v 2.2 over at File Hippo, or v 2.1 at Brothersoft (choose the second link that downloads directly from FastStone).
I wasn't sure if it was OK to post the links or not. Just Google for FastStone Maxview version 2.2 or 2.1.

Incidentally, why take off points for File Forum's mistake? The FastStone site clearly marks this as shareware.
Nighted reviewed v2.3 on Dec 4, 2008
MaxView 2.3 is a 45 day trial. I've seen FastStone do this before and then immediately revert back to freeware. Just in case, hold on to 2.2 as I haven't noticed any difference other than RAR/ZIP support.
Blaxima reviewed v2.2 on Nov 3, 2008
Great quick image viewer but why did they remove the boarderless window??
zridling reviewed v2.2 on Nov 3, 2008
One of THE best quick-view apps ever built. The other is Gwenview for Linux. Well worth a donation.
Nighted reviewed v2.2 on Nov 3, 2008
The excellent crop board from other Faststone apps has been added to Maxview. Perfect for me as I often need to do quick crops and don't want to open anything other than the image itself.

Comparing this to XnView is like comparing Notepad to Word. This is for the instant viewing of images without loading a ton of thumbnails.

Niksa, I have a Canon and have no problems viewing my photos.
Stingray57 reviewed v2.2 on Nov 3, 2008
It's ok, but XNVIEW is better and it's also freeware.
arjesus reviewed v2.2 on Nov 3, 2008
Oh man!
I loved the way MaxView were, w/o window and bordless! It is supposed to be a viewe only, now it has a "draw" option and it looks just like others viewers...
I guess i'm goin to use IrfanView, at least it has more options
Niksa reviewed v2.1 on Aug 24, 2008
Simple and fast, but I found that it can't handle some JPEG photos from Canon & Olympus digital cameras so I started thinking about replacement