File Details

File Size
1,953.1 MB
License
Freeware
Operating System
Linux
Date Added
September 20, 2023
Total Downloads
58,080
Publisher
Red Hat, Inc.
Homepage
Fedora Linux
Publisher's Description
The Fedora Project is an openly-developed project designed by Red Hat, open for general participation, led by a meritocracy, following a set of project objectives. The goal of The Fedora Project is to work with the Linux community to build a complete, general purpose operating system exclusively from open source software. Development will be done in a public forum. The project will produce time-based releases of Fedora Core about 2-3 times a year, with a public release schedule. The Red Hat engineering team will continue to participate in building Fedora Core and will invite and encourage more outside participation than in past releases. By using this more open process, we hope to provide an operating system more in line with the ideals of free software and more appealing to the open source community.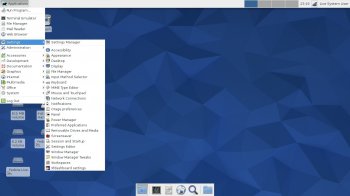 View Full-size
Latest Reviews
marty reviewed v25 Alpha on Aug 30, 2016
This is a link to the 386 version. Use Fedora Torrent Server instead to get what you want . https://torrents.fedoraproject.org/

Fedora itself is a nice operating system but the new version of the anaconda installer is terrible. Don't even think about installing Fedora in a complex partitioning system.
marty reviewed v19 Alpha on Apr 23, 2013
This is an excellent distro - but only if you have a very uncomplicated partitioning setup. I defy anybody to tell me how you could setup a RAID5 for examp[le - especially with other OS's on the disks. I need to take an upgrae path form FC17-Fedora18 (and maybe the Alphia if I can). This was very easy in Fedora 17. So because of he new Anaconda installer it gets a 3 (but for me a 0)
Music4Ever reviewed v18 Final on Jan 15, 2013
A good distro & well worth a look.
-Lord- reviewed v17 on May 29, 2012
krakokainer: was your review in Engrish or something? Didn't they do away with ebonics? Yo, mofo, ENGLISH... do you speak it???
FatBastard reviewed v17 on May 29, 2012
I love Fedora with LXDE but it's sad they don't bundle VLC.
krakokainer reviewed v14 Final on Nov 5, 2010
fedoras be a cool cat and i likes linuses cause it be one of my favorites; all up and at it with this stuff and it be all good if you wanna try it out and hang with some yos while u chill wit it
egg83 reviewed v13 on May 26, 2010
Works like a charm on my 2 yr. old laptop, no issues whatsoever. Did the job where Ubuntu could not, esp. with wireless drivers. A great distro!
some guy reviewed v12 Alpha on Aug 26, 2009
good stuff, to the Mac fan boy try ciaro dock, if you want eye candy, you can even make Linux look like your mac,,,Let see your mac do that..
http://i29.photobucket.c...ark761/Screenshot-8.png.
alshawwa reviewed v11 on Jul 8, 2009
the finest distro until the moment , iv been using it since it came out , tried it with the applications that i usually use on ubuntu 9.04 , and it shocked me with the stability , its fast and stable , never crashed " i play alot with the system settings and configurations" .

gnome kde , kde gome , its a matter of taste , you can do everything using both but in different ways and shortcuts.
mflip reviewed v11 on Jun 9, 2009
Finally, full EFI support for AMD64 platforms. There's still no Linux distribution that can hold a candle to Mac OS X. Mac OS X has better graphics than every Linux distribution and is much more stable. It is harder to crash Mac OS X than any other operating system.