File Details

File Size
3.3 MB
License
Open Source
Operating System
Windows 2000/9x/Server 2003/XP
Date Added
April 16, 2007
Total Downloads
56,944
Publisher
Tim Kosse
Homepage
FileZilla
Other Versions
Publisher's Description
FileZilla is a fast and reliable cross-platform FTP, FTPS and SFTP client with lots of useful features and an intuitive graphical user interface.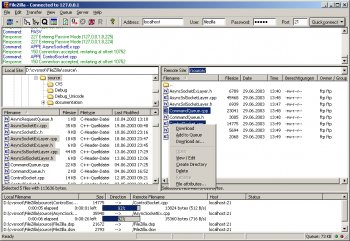 View Full-size
Latest Reviews
dhry reviewed v2.2.32 on Aug 8, 2015
Still the best version of Filezilla - they've mostly ruined it with the v3 series. This is the last version which contains Mode Z compression, and the last version which automatically monitors local source directory for changes and refreshes it in realtime. Plus it loads faster than FZ3. And for those reasons, FZ3 -- I'm out.
fred1982 reviewed v2.2.32 on Oct 3, 2013
Filezilla is stable and still the best ftp client out there. Definitely worth spending 1 minute to write a positive review.
comeoffit reviewed v2.2.32 on Mar 24, 2008
Free is too expensive for this thing.

I often do huge uploads to my web host. For whatever reason, whenever I do, I get socket errors from the host after many hours of uploading. Maybe the host sucks, I don't know and it doesn't matter.

When FileZilla is being used for the upload, and the socket error occurs, the piece of garbage automatically restarts the upload, even though I have the upload restart settings configured to RESUME, not restart. I don't care if I can totally disable retries, because I don't want to do that. I just want the client not to do something moronic, like rewrite a multi-GB file that is in the middle of being uploaded.

When FTP Voyager is being used, and the socket error occurs, it does not restart the upload. This isn't the best behavior, but it sure beats what FileZilla does.

Why don't the authors of FTP clients make it so they simply resume automatically? Why? Is this not brain-dead obvious behavior to at least have as an option?
fubo reviewed v2.2.32 on Oct 18, 2007
The best FTP client: free, fast, simple, lot's of proxy support,... Version 3 is completely useless except it started to be released also for Linux.
Ian C. reviewed v2.2.32 on Sep 10, 2007
Still the best FTP client. The final release of Filezilla 3 is a huge let down, but this is still amazing.
cowgaR reviewed v2.2.32 on Apr 21, 2007
pros: It's free

cons: too simple, outdated, interface is from the year 2000, no need to use "external" FTP aplication for simple things...

conclusion:

On Windows platform, Total Commander 7 does EVERYTHING this does and more, in a more pleasant and convenient way with a much much much better interface. Abilities like synchronize directories etc just make it my FTP choice for simple things. But it is a commercial application...

On linux...FileZilla 3 looks promising, but not now.

For hardcore FTP players, we have just another leauge of another FTP applications.
Rebell reviewed v2.2.32 on Apr 20, 2007
Realy great fast usable FTP client!
Even SFTP and FTP over SSH is aviable for secure transmissions.

GREAT - TRY IT ;-)
molumen reviewed v2.2.32 on Apr 19, 2007
the best open source ftp client ever!
mjm01010101 reviewed v2.2.32 on Apr 19, 2007
Awesome. Quick fix to that sec vuln too.
morriscox reviewed v2.2.28 on Sep 30, 2006
Don't be so stupid, zridling. Jerry4dos has a good point. Windows is more than just 2000, XP, and 2003.