File Details

File Size
10.4 MB
License
Open Source
Operating System
Windows 7/8/10
Date Added
March 17, 2021
Total Downloads
118,625
Publisher
Tim Kosse
Homepage
FileZilla
Other Versions
Publisher's Description
FileZilla is a fast and reliable cross-platform FTP, FTPS and SFTP client with lots of useful features and an intuitive graphical user interface.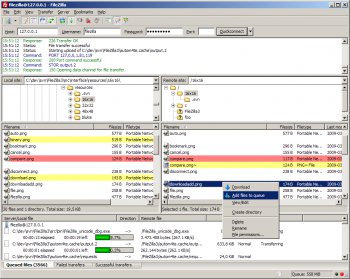 View Full-size
Latest Reviews
SillyCactus reviewed v3.48.1 on May 28, 2020
Works like a charm.
sweathog reviewed v3.30.0 on Jan 10, 2018
I have no ax to grind. But I'm curious, why this over WinSCP given the malware issue and the fact that the program did not have the option to encrypt passwords until last May?
Picasso reviewed v3.18.0 on May 29, 2016
Very good!
uberfly reviewed v3.14.1 on Oct 19, 2015
Best free FTP / FTPS / SFTP there is. Works great.
FatBastard reviewed v3.11.0.1 on May 23, 2015
If you're afraid of malware in the installer just download the portable zip-file from the project homepage.
ShawnDevin reviewed v3.10.1.1 on Feb 2, 2015
Great program but most websites _ INCLUDING THIS ONE _, installs it with some nasty malware.
uberfly reviewed v3.9.0.6 on Nov 30, 2014
Advisory: Malware downloads on third-party websites
https://forum.filezilla-...pic.php?f=1&t=31935

In other words, this is a great tool, just get it from trusted sources.
jkauff reviewed v3.9.0.6 on Oct 16, 2014
This version installs some nasty malware that attempts to disable anti-virus protection. Avoid at all costs.
anonswgeek reviewed v3.9.0.5 on Sep 8, 2014
no longer works on XP. i'm still running 3.9.0.1
some guy reviewed v3.9.0 Beta 3 on Jul 1, 2014