File Details

File Size
9.6 MB
License
Freeware
Operating System
Windows (All)
Date Added
January 3, 2012
Total Downloads
37,761
Publisher
Tomas Camin
Homepage
Floola
Other Versions
Publisher's Description
Floola is a freeware application to efficiently manage your iPod or your Motorola mobile phone (any model supporting iTunes) under Linux, Mac OS X and Windows. It can be run directly from your iPod and needs no installation. It supports all common used iPod features including artwork, podcasts and smart playlists. It is also able to convert audio or video incompatible with the iPod so that you can copy almost any file to it. It even allows adding youtube and myspace videos just entering the page url.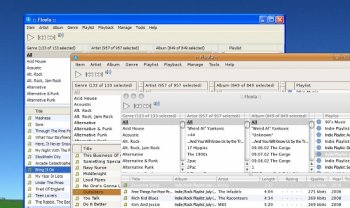 View Full-size
Latest Reviews
arossetti reviewed v5.6 on Apr 7, 2010
Excellent! Now with Nano5G support! Can finally rid my PC of the infestation that is iTunes! First time had to right-click and run-as admin in Win7 x64, but now can just run the program normally and it works flawlessly!.
netean reviewed v5.3.1 on Sep 28, 2009
shame, still no new ipod support. so It won't work with ipod Touchs not Iphone, nor latest Nanos.

Sharepod does.
MusicBee does
Mediamonkey does
SnoBrdr reviewed v5.2 on Jun 22, 2009
Won't find my IPod Nano 2nd Gen, says it is not connected.

ITunes finds it fine.

Still wouldn't shutoff in Vista x64.
arossetti reviewed v5.0 on Mar 27, 2009
Great, except I had to stick with 4.9 since 5.0 doesn't want to close on either of my Windows (XP and Vista) machines. I'm sure 5.1 will fix the issue, as others have experienced it as well.
Nikkie reviewed v4.7 on Feb 3, 2009
Please make it rockbox compatible..Audio is always drag and drop but something compact would be great.i would love to be able to convert audio/video quickly from youtube to my ipod with rockbox, with one single tool.
tristan202 reviewed v4.2 on Dec 16, 2008
Still no support for iPhone 3g or iTouch.
enrom reviewed v4.0 on Nov 18, 2008
I always had problems with Floola.
dreamz reviewed v4.0 on Nov 18, 2008
Works great. Makes it easy to copy files between your iPod and your pc. I never had problems with Floola.
/dreamz
enrom reviewed v3.9 on Nov 12, 2008
A lot of confuse. I must follow with the bad iTunes.
netean reviewed v3.9 on Nov 12, 2008
elitegangsta is a better man than I. I just couldn't get this working with my ipod touch at all.
Nothing on the website about the touch that is remotely useful. - documentation is very confusing (lots of self refrencing)