Other Versions
Publisher's Description
Free Download Manager (FDM) is a full-featured freeware downloading program. It allows you to download files and whole web sites from any remote server via HTTP, HTTPS and FTP.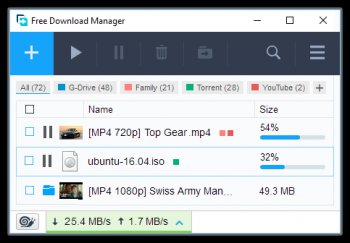 View Full-size
Latest Reviews
kstev99 reviewed v5.1.23 on Jan 24, 2017
Version 3.x worked great. I used it for years. I'm sorry to say that I had to abandon it and start using IDM. Version 5 of this program just plain sucks. Half of the features that version 3 had are gone.

Sorry FDM, it was great while it lasted but you had to ruin a good program with this dumbed down version
AMIB reviewed v5.1.22 on Jan 3, 2017
The new version 5 is as simple as a baby software and it is so huge compare to features included.
I'll continu using V3 till they revise this unusable version
uberfly reviewed v5.1.20 on Nov 30, 2016
Always have used the Lite version, but is bulletproof. Awesome app!
kstev99 reviewed v5.1.15 on Jul 19, 2016
I've used FDM for a long time, and love the 3.x versions. Why they had to dumb-down the interface in this new version and remove valuable options is beyond me.

Version 5 is not ready for prime time and should still be in BETA stage, if they are going to leave most of the functionality of the program out. Terrible.
mchargue reviewed v5.1.15 on Jul 19, 2016
The new version looks nothing like what's pictured. While I can applaud the intentions behid the devs, the new version is harder to use. By a lot.
smaragdus reviewed v5.1.5.3224 Beta on Apr 13, 2016
The screen-shot is misleading- this is the GUI of Free Download Manager version 3 which is excellent, while the Beta (FDM 5) looks terrible. I give 5 stars for FDM 3 and 1 star for FDM 5 (the abominable Beta).
some guy reviewed v3.9.4 Build 1479 on Oct 16, 2014
over rated IDM is a better choice but for free better then winblows default
BANDIT- reviewed v3.9.3.1358 on Sep 23, 2013
Get the Lite version Unless you still Bat on with Torrents.. Snigggger..!!
Easily made portable from the "setup" file via CMD:Innounp
Highly configurable. Well maintained..... A super 5*
UPieper reviewed v3.9.2.1288 on Jan 16, 2013
Been using it for years. Works flawlessly...and it's free!
connectplus reviewed v3.9.1.1261 Beta on Aug 24, 2012
Downloaded this program and experienced such great pain trying to download Xubuntu files for almost two weeks straight, that I couldn't wait to get it off of my computer. Firstly, I tried downloading the 680 MB file without torrent...it stopped several times; then I tried the torrent download--3 days later, it said it was 100% downloaded, but I also noticed lots of wasted MBs in the log files; I went to open the file and it had 27 KB. Now you know I'm hot at this point! Silly me, tried once more just to be fair; and waited another 24 hours for it to download, but it stopped at 89% and refused to download further. I'm not one for wasting my time and really get angry when something else does! If this works for you, great! It didn't did work for me even with all of its beautiful interface and tooted useful tools.