File Details

File Size
0.4 MB
License
Adware
Operating System
Windows 2000/9x/Server 2003/XP
Date Added
October 16, 2003
Total Downloads
6,518
Publisher
FreeWire P2P
Homepage
FreeWire
Publisher's Description
FreeWire is a file searching that connects users to millions of others on the Gnutella network. Search for, share, and download music, movies, pictures, games, software, documents and more with this peer-to-peer software tool. It implements the newest and most advanced Gnutella features, including multi-host fast "swarm" downloads, smart auto-resume, advanced search filtering, upload bandwidth controls, auto-detection of firewalls, enhanced connection management and much more. You can organize and play custom MP3 playlists with its built-in MP3 player, and you can chat with other Gnutella users with the integrated Chat utility.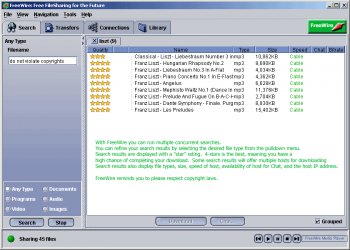 View Full-size
Latest Reviews
fxer reviewed v2.6.1 on Oct 31, 2002
FreeWire 2.65 (will automatically be installed when using the net-installer) now has a CDBurning tab in the main program interface that when clicked opens a webpage selling a $30 addon to FreeWire that burns MP3's. There is no way to remove the tab during install or during regular operation of FreeWire so I would have to say this is ad-ware now, no longer freeware.

Also for some reason they do not tell what version of FreeWire you are running in the About box in v2.65 and up, guess it's time to go back to Gnucleus
cybot55 reviewed v2.5.5 on Aug 26, 2002
This works great for me Proberbly better than Kazza and a hell of a lot better than Morphous.
Great 5/5
grokit reviewed v2.5.5 on Aug 25, 2002
what a crap. uninstalled within a couple of minutes.
installs unwanted software.
asks for java package which is already installed.
I can't recommend it.
jrepin reviewed v2.5.5 on Aug 25, 2002
Great.LimeWire Pro without ads! But where is the Linux version?
Peltec reviewed v2.4.3 on May 11, 2002
Good Grief...fork out the $8 and buy Limewire Pro.
teedog reviewed v2.4.0 on May 2, 2002
Great. LimeWire with no ads but more spyware. Ironic.
kyrex reviewed v2.3.2 on Apr 14, 2002
Hm...didn't take too long for me. The whole installation lasted only about 45 seconds, and that included the FreeWire download AND the JRE 1.4 download. But still, no download would be best (although I can understand for the JRE).
dave2019 reviewed v2.3.1 on Mar 31, 2002
Just Like LW But they added some other adware which you dont have to install.
Also The Install Downloads Every File from the web which is very slow and I am on 512k Cable.

I Would Have Give It a 4 star if they pack all the files in to one files and let you save it on your hard drive.

Still this is one of the best fileshareing tools you can get.
aeroe reviewed v2.3.1 on Mar 30, 2002
Even though I'm beginning to love LW, I cannot give this clone a perfect rating. First off they compiled LW and removed spyware and then added their own (optional I know) to make money from something they did Not improve. Hopefully like it said below, that they will do something with the source. Also I had to fight this clone for it to detect JRE 1.4... no problem with the real LW.
Bitwise reviewed v2.3.1 on Mar 30, 2002
I ran Ad-aware 5.7 before installing Freewire and after and it doesn't have any detectable spy-ware. I didn't install the optional modules "U Save & U C More." Also downloaded a few files and restarted the program.. Still no new Spy ware. It's 100% spy-ware free. Nice program, I would recommend it over Limewire.