File Details

File Size
0.5 MB
License
Freeware
Operating System
Windows 2000/9x/Server 2003/XP
Date Added
January 20, 2006
Total Downloads
30,521
Publisher
Theorica Software
Homepage
Game XP
Publisher's Description
Game XP optimizes the performance of your computer, corrects problems and helps you to set up your system to match your gaming needs. It extends your operating system's capabilities and makes Windows faster and comfortable for maximum gaming experience.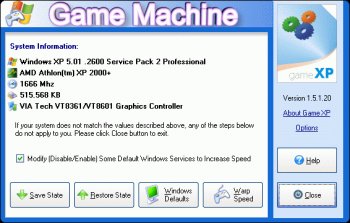 View Full-size
Latest Reviews
gsteele reviewed v1.6.1.20 on Jul 1, 2009
Totally useless. It isn't even an alpha.
keisan12 reviewed v1.5.8.10 on Nov 16, 2006
i cant use this!
it makes my system crash
sinbad8508 reviewed v1.5.8.10 on Sep 28, 2005
My anti virus software identifies a Trojan Horse (PSW.Ldpinch.IJ) embedded in the exe file.

sinbad
otheos reviewed v1.5.3.20 on Apr 1, 2005
Given your system may never recover from the changes, the interface makes it unclear whether you actually applied the changes or not. Very dangerous for the novice who looks for the extra bit of performance!!!

Clear up the gui (radio buttons and a large apply button maybe), add tooltips to each setting and provide a "save state" option for safe recovery.
KerstKern reviewed v1.5.2.2 on Feb 3, 2005
Warning!! Believe the disclaimer that the author writes in his README! Do NOT use this program if you do not have a method of restoring your computer from the point where it will not even startup in SAFE mode!! I say that because if you look at all of the stuff that this program does (have to go to the website and go through the forums etc. unfortunately) the above scenario is a possibility, in fact, it is probable. If you DO know what you are doing, then this program is probably not for you as you would be a power user that would want to have more control over their settings than this program gives.

Suggestion: Make every setting explicitly "click-able" and tool-tip understandable with links to why you turn something off in order to gain performance. Have warnings for particularly scary service shutdowns and reg changes. Basically document document document! Your target audience is apparently NOT the power user so don't expect 'regular' computer users to understand what gun they are pulling the trigger on. Good luck!
daver18qc reviewed v1.5.2.2 on Feb 3, 2005
Well, if you're already a power user like me and you already manually disabled the services and tweaked stuff like the Windows SWAP file you dont need that... Giving it a neutral 3 because it's of no use to me but i understand some people might find this more user friendly than tweaking you system manually.
kingclyde reviewed v1.5.1.120 on Jan 19, 2005
"This one messed my computer almost completely, and my games didn't have any better fps.
POS, 1 star." FPS won't go up if vsync is enable as it is by default in most games. I tried it on my spare comp and it works fine. Just make a backup with either the program or system restore. If you can't find system restore on your computer,don't use this program.
guevara reviewed v1.5.1.120 on Jan 19, 2005
This on
could make
a mess
in your pc
so
if you are a novice stay away
Zodiachus reviewed v1.5.1.120 on Jan 19, 2005
5 stars, becaus the program does what it says. It turns off less commonly used services and stuff like that. I don't recommend anyone who isn't familiar with managing services and such by hand to use this. The best use is to run this and then reenable the services you really are using.
jroe reviewed v1.5.1.120 on Jan 19, 2005
It's an ok app in practice - It would be nice to be able to edit what it's doing as far as tweaks are concerned - and It does have a backup feature - Thats what the whole "state" mess it's talking about it.