File Details

File Size
2.5 MB
License
Freeware
Operating System
Windows 7/8/10/Vista/XP
Date Added
September 11, 2019
Total Downloads
10,909
Publisher
Thomas Koen
Homepage
GeekUninstaller
Publisher's Description
GeekUninstaller performs deep and fast scanning afterwards and removes all leftovers. Keep your PC clean! Use Force Removal for stubborn and broken programs.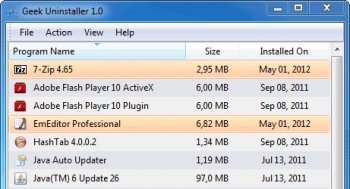 View Full-size
Latest Reviews
Morningdove reviewed v1.4.3.105 on Jan 10, 2017
I installed a typical program, executed it and then uninstalled it with GeekUninstaller, noting the results. This process was repeated using two trusted uninstallers: Total Uninstall and Revo Uninstaller. Total Uninstall uncovered the most leftovers and Revo was a close second. Geek Uninstaller found only two leftovers. In addition, the interface is minimal and somewhat dated.

Total Uninstall is shareware and worth the price. Revo Uninstaller is free and also has a portable version, so there is no good reason to use a weaker program.

Comparing any aftermarket uninstaller to Windows will make that uninstaller look good. Windows does not have an uninstaller, but simply executes the uninstall programs provided by the program developers. They cannot remove files and registry entries created after the program is installed. They are also notorious for leaviing scraps behind.

Hopefully this program will continue to be developed and become more efficient. It is a nice little program that definitely has potential.
kstev99 reviewed v1.3.5.56 on Feb 3, 2016
This is a great uninstaller, and I've tried several of them. So much better and complete than the Windows Control Panel Uninstaller.

Even better yet is the Paid Version. It's not that expensive for a lifetime license and is well worth it for the added features. I purchased the portable version so I could use it in my USB toolkit. Dump the others and try this, you won't be sorry.
darkwzrd1 reviewed v1.3.5.56 on Feb 2, 2016
Fantastic Uninstaller, though I recently switched to Uninstall Tool because it's even better.
Zoroaster reviewed v1.3.3.45 on Apr 6, 2015
Version 1.3.3.46 is available.
Great uninstaller, precise, fast.
Zoroaster reviewed v1.3.1.38 on Oct 31, 2014
Version 1.3.2.40 is available.
Great uninstaller, precise, fast.
manko reviewed v1.3.1.38 on Sep 25, 2014
It's really good and its so good for the new users that can't work properly. Get the more news and more updates in this site.
Geek Uninstaller takes care of problem programs really well and can even uninstall programs other programs can't. It's one of the most powerful uninstallers you can find for Windows. Since it comes in a slim, portable package, it's wonderful to stick on a USB to help fix buggy PCs on the go.

Even though portable programs may make some antivirus software flag them as suspicious, our antivirus software didn't make a peep during testing. When you launch Geek Uninstaller for the first time it gives you a lengthy list of all of the programs on your computer, including some drivers, system programs, and hidden programs. That means you can uninstall just about anything on your computer, but be careful to only ax programs you know you don't need. All of the information this app gives you is presented in a traditional file menu that looks somewhat bland, but makes it easy to find the exact program you're looking for. Unlike some of its competitors, this app doesn't let you choose multiple programs to uninstall at once. You have to uninstall programs one-by-one and follow their traditional uninstall processes, which may take a bit longer but it's definitely more efficient. We had no problems with Geek Uninstaller leaving behind traces of programs after the cleanup, so you don't have to worry about any leftovers.

Geek Uninstaller is perfect for anyone who wants to make sure they leave nothing behind on their system when they uninstall a program. Just be careful when you're inside as it might happen that you uninstall something you actually need.
Uriel reviewed v1.3.1.36 on Jul 23, 2014
I purchased this software yesterday after finding it here to give it a try. So I used it to uninstall Revo Uninstaller Pro. Once it was complete, I used JV16 Powertools to search the computer for any files, folders, or registry keys that might have been missed. The only thing that GeekUninstaller missed was one folder under the ProgramData folder with a single key file in it. This is pretty impressive compared to the multiple files that Revo Uninstaller kept missing using the same the JV16 Powertool test. I am quite impressed and give it 5 stars.
Lsavagejt reviewed v1.3.0.30 on Apr 19, 2014
There was a problem where GU would leave a file in app data which CCleaner would hang on, and so you would have to cancel CCleaner and go and manually remove the GU file, but that problem got resolved somehow. The good news is that GU is lightweight and effective. Really the best uninstaller out there right now.
Fazliy reviewed v1.2.1.25 on Feb 2, 2014
I've used other uninstallers before (i.e. Revo Uninstaller and others), and GeekUninstaller beats them hands-down. It's so easy to use, and I've never had a problem, as I did with Revo, with programs not populating the uninstall list.
I install and uninstall software quite regularly, and GeekUninstaller has definitely made my life easier, not to mention my PC much cleaner.
Mirrebex reviewed v1.1.2.25 on Jan 10, 2014
Works like a charm!