Publisher's Description
GermaniX Transcoder is a simple and extensible audio converter. It comes with more then 30 formats, more then 20 languages, more then 20 skins and is simple extensible trough a simple .net API.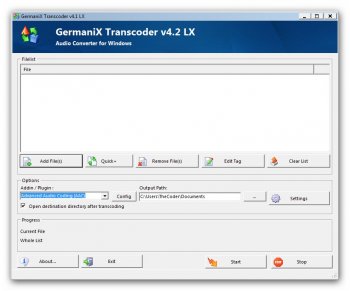 View Full-size
Latest Reviews
ct@work reviewed v4.1.2.784 on Jan 21, 2013
There is a new version @ http://www.gxdownloads.net. The last version I found is the 8.4.
kadir8282 reviewed v5.0.2.866 Beta 10.7 on May 12, 2009
thanks for pro.
oompoop reviewed v5.0.2.866 Beta 10.7 on Jan 25, 2009
Tried GX.Transcoder and loved it (well, some years ago ...)
... but it often crashed and needed to be re-installed before each usage :-(
... then found FormatFactory and would give it "ten" points,
... but there is a limit of 128 kbps, unfortunately :-(
SUPER obviously has no limits, but an awful GUI and is a little bit complicated to work with - I had to change the screen resolution first to find the startbutton at the bottom :-(
So, nobody is perfect, but you may live well with a triumvirat ...
TGB72 reviewed v5.0.2.866 Beta 10.7 on Nov 27, 2008
Very buggy software, it crash often during conversion, and the interface is a just ugly. I prefer FormatFactory, it support the same input/output formats of GX::Transcoder, the interface is much more friendly, it's pretty solid and stable and is also free.
ct@work reviewed v5.0.2.866 Beta 10.7 on Aug 7, 2008
On my PC I have only a small amount of bugs. The player is not so easy to understand - the transcoder is simple and good. I don't understand your opinion? I don't use the other modules of this software, thats why i can not rate this parts.
Ryusennin reviewed v5.0.2.866 Beta 10.7 on Aug 7, 2008
It has nothing to do with V5 being a neverending beta; it has been buggy and cumbersome since its first release a year ago. Heck, even Winamp 5 has a much better transcoder (which is simple and fast to use at that).
ct@work reviewed v5.0.2.861 Beta 10 on Aug 6, 2008
Nice work. Have some bugs, but is a beta. Post your bugs on the website of the author - it's a beta. Player have a verry slow start - but have a good interface. A help file is missing for the user.
Ryusennin reviewed v5.0.2.861 Beta 10 on Aug 4, 2008
What happened to GX Tanscoder? V4 was far from perfect, but it was so much better than V5. This new version is slow, buggy as hell and totally unintuitive.
argybee reviewed v5.0.2.844 Beta 8 on Jun 23, 2008
Problems galore!
Everything seems to run slow.
Player cant see more than 2 folders deep!!?? Even though the transcoder can...?? Couldn't play most of my music files as a result.
Couldn't get it to open mpeg for tranz to mp3 !!?
Seems to open only basic audio file types.
Clicked on 'speaker' button and immediately got major app crash...
Even if this thing worked it is ridiculous to take out 20Mb of HD for the functionality it has.
Anyone looking at this should look at AIMP2 which is primarily a player but has excellent transcoder, recorder, library, tag edits etc. as utilities and takes out about 7Mb of hard drive. Something definitely wrong here because I really think the GxTranscoder of about 2 years ago was much better than this junk. It's getting worse over time.
Ryusennin reviewed v5.0.0.734 Beta4a on Apr 28, 2008
Aah, I get it... You acquired Awave "for free" (wink wink) and thus, of course, price can't be the point, right? It might make sense for you, but personally, I wouldn't trust someone who can't even spell correctly his own nickname (don't whine, you asked for it).

Now buzz off lad.