File Details

File Size
1.3 MB
License
Freeware
Operating System
Windows 7/8/10/Vista/XP
Date Added
June 20, 2016
Total Downloads
5,843
Publisher
Outer Technologies
Homepage
GetDiz
Publisher's Description
GetDiz is a program used to view DIZ and NFO files that are typically found in ZIP files.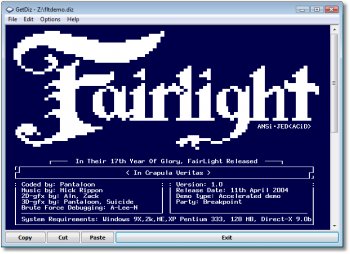 View Full-size
Latest Reviews
nice little program but i switched to iNFekt as it is better featured
xrqp reviewed v4.4 on Jun 28, 2010
I tried Damn Info Viewer and tried GetDiz. GetDiz seemed clearly better. Installed size is 0.7 MB. So small it is insignificant. How can the other reviewer make such a big deal out of saving 0.4 MB? I guess it is important to him, but I doubt it is important to 99% of us. GetDiz is also better than Notepad. I could not decide between 4 star - because it is just a text editor viewer or 5 star because it it the best free one I found.
dhry reviewed v4.4 on Jan 7, 2009
Exactly what "more" do you need a viewer to do when you're just reading a text file? Make mine DAMN or notepad, this is way too bloated.
poisonu reviewed v4.3 on Nov 30, 2008
This the best....
No other has it's capabilities....
I used DAMN till a few years ago, but prefer GetDiz as it can do Much More.....
gehtnix reviewed v4.3 on Nov 28, 2008
well...one point for being freeware
one point for some features like saving the file as .gif

but this tool won't beat DAMN .nfo-viewer, which installer is 263 KB only and takes 480 KB after installing.
see for yourself:
h**p://www.softpedia.com/get/Office-tools/Text-editors/DAMN-NFO-Viewer.shtml

if you just want a smart tool for viewing .diz and .nfo, than DAMN nfo-viewer is the tool of first choice.
TC17 reviewed v4.3 on Nov 28, 2008
This program definitely works better than using notepad or word. The guy stating otherwise doesn't know what he is talking about. Its also a lot easier/less time to install this tiny program than it is to configure windows to use some other program where you end up having to configure the stupid fonts etc. I also prefer this one over the "damn" nfo viewer.
Nighted reviewed v4.3 on Nov 27, 2008
Hmmm...still a decent NFO viewer that includes decent fonts. That's what it does people, stop putting it down. Anyway, you can view NFO files perfectly in Notepad2...you just have to get the code folding version and edit the syntax scheme for ASCII art with a proper font and colours of your choice.
srnty reviewed v4.2 on Oct 14, 2008
I'd still recommend DAMN NFO Viewer.
Nighted reviewed v4.2 on Oct 14, 2008
Careful! They've bundled this installer with Ask toolbar.

Jane is still a fantastic alternative.
TehCaptain reviewed v4.1.0.0 on May 5, 2008
Stylemessiah... How exactly do you get notepad to show ascii properly and also how do you make it convert web links so they are clickable?

Just two small reasons this "w@nker" prefers this program over notepad.