File Details

File Size
4.9 MB
License
Shareware
Operating System
Windows 2000/9x/Server 2003/XP
Date Added
June 24, 2008
Total Downloads
11,648
Publisher
Headlight Software, Inc.
Homepage
GetRight
Other Versions
Publisher's Description
GetRight works with your web browser to help you download files from the Internet. It can accelerate your downloads and can recover downloads if errors occur (resume downloading). It has many other advanced features such as scheduling, automatic dialing, and file searching.
GetRight Pro features uploading, scripting uploads/downloads, act as a proxy for other programs, and more.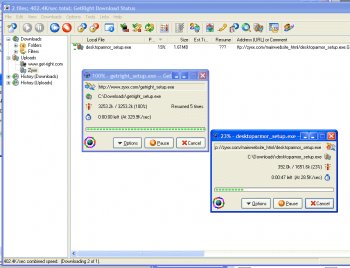 View Full-size
Latest Reviews
sirhardi reviewed v6.3b+02 on Dec 5, 2007
Endless Options, Integration flawless.
Accelleratin truly works, I am on 15 MB down pipe...
Best there is and I test a LOT.
I paid they deserve it !!
Rikrdo reviewed v6.3 on Jul 21, 2007
Always the best download manager!
brusco reviewed v6.1 on Dec 11, 2006
@ DIRKES below. You could always read the included help manual. Its clearly laid out and concise. If you are unable understand its contents then you should probably not be let near any live electrical equipment let alone a net-connected computer.

Unfortunately your Free Download Manager does not even come close to the functionality of getright. :(
DIRKES reviewed v6.1 on Dec 11, 2006
before i buy it, i want ask 2 questions. But
Headlight Software send no answer till today.
Support is not the best, what happens, if i spend money and THEN i have a problem??
Now, i use 'Free download manager' without problems.
[deXter] reviewed v6.1 on Dec 10, 2006
Finally, a version that deserves a 4.

At first use, you'll notice a few visual improvements, like the new layout and a download-completed popup-tooltip. As you keep using it you'll wonder where all the crashes and bugs you've been so accustomed to went. Of course, they've been fixed, and it shows. The most significant fix/addon is ofcourse, that the BitTorrent implementation *finally* can be termed as "useful". Yes, I'm talking about the much needed DHT/Kad implementation along with a lot of BT bug fixes. This should push the utility-value of Metalinks, especially when downloading large images of *nix distros.

On the flip side, the BitTorrent implementation still needs a lot of polishing. It can fail to achieve good speeds on files that work perfectly well in a regular torrent client.
Then there's the controversial oft-requested feature: more than 4 segments on a single mirror. The problem is, while users might tend to abuse it on regular servers, there are servers that deliberately limit the speed per connection. But I think its for the user to make that choice and not the author. There should should be an option to to raise the segment-cap on limiting servers.

Overall, the new flavour of Getright is that of a nice old wine. Not yet vintage, but it's getting there.
ajua reviewed v6.1 on Dec 10, 2006
since the first versions, this is the best download manager, and keep improving with each version. great set of features in the pro version.
Wintings reviewed v6.0c on Sep 21, 2006
I have used GetRight for years and it keeps on getting better. A must-have app.
geeksuperhero reviewed v6.0b on Aug 7, 2006
Djofull did contact us and we of course resent the code (looking back, the same day he posted this...)
Djofull reviewed v6.0 Beta 7 on May 26, 2006
I bought GetRight Pro 6.0 Beta 7 thrugh pay pal
and was told they would send me the serialnr.
within 2 days they didn't I have sent many emails
to get the serialnr. but no answer so don't buy it.
twanj reviewed v6.0 Beta 7 on Apr 16, 2006
If you like fast downloads, check out it's new feature, Metalink: http://www.metalinker.org