File Details

File Size
25.3 MB
License
Shareware, $99.99
Operating System
Windows 2000/9x/Server 2003/XP
Date Added
February 7, 2011
Total Downloads
6,707
Publisher
Promixis, LLC
Homepage
Girder
Publisher's Description
Girder is a powerful and feature-rich computer and home automation tool. With infrared and wireless remote controls, Girder can control programs like WinDVD, WinAmp and Windows Media Player. Its large plugin library provides control of and feedback from hardware devices including security systems, X10 and other home automation protocols (Insteon and ZWave) and many other network, serial and USB devices. It is the behind-the-scenes glue that gives you highly a customizable and feature rich interface to control your home and computer automation projects.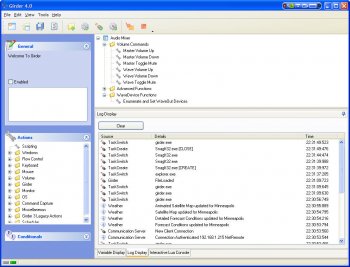 View Full-size
Latest Reviews
SandraDuboix reviewed v5.0.526 Beta on Jul 21, 2008
Watch out because the author of this program can switch off your computer any time !!
Pkshadow reviewed v5.0.526 Beta on Jul 21, 2008
I really do not often write reviews for programs I have not tried but with the Publishers description I see no reason why I would want this program from their information.
As I look a little closer to the information supplied I again see no reason as to why I would want this program.
Sorry guys, make your descriptions useful as well as the program a little more specific as I do not need or want something that takes control and is behind the scenes unless I have full confidence in it/useful.
No interest/confidence out of this guy to even want to give it a whirl!

As for the above statement from SandraDuboix I think she needs to expand on that hypothesis or it means nothing!

SandraDuboix we are all waiting!!!
Skawt reviewed v5.0.523 Beta on Oct 9, 2007
If Girder doesn't work for you, and you have a SnapStream Firefly remote, I recommend LM Remote Keymap. All you need are the standalone firefly drivers, plus this app:

http://www.lmgestion.net...-us/4/22/60/article.asp

No, I don't work for them. I have BeyondTV and didn't see any reason I should load the entire media application just to get my remote working. It also works with plenty of other apps and is configurable.
johnh21 reviewed v5.0.523 Beta on Oct 9, 2007
As a disabled user whose condition has deteriorated steadily over the last few years making life as easy as possible has been my number one objective for quite a while now. Girder is helping me achieve this goal! I can no longer go without this application, highly recommended!
stisev reviewed v4.0.5.2 on Aug 26, 2006
I couldn't get this POS software to work. Despite following every single direction & instruction listed, my Firefly remote wouldn't detect it, despite the fact I loaded the correct plugin.

$99 for this headache. No thanks!
homeauto reviewed v4.0.5.1 on Jun 27, 2006
This program is awesome. I started using this for my home and am now using it at the school where I am the official computer wiz. I've automated projector, VCR/DVD and amplifier control using Girder. The teachers no longer need 4 remotes, Girder takes care of it all.
guru322 reviewed v4.0.1 on Jan 9, 2006
Girder 4 is a great product I was able to setup my home theatre within a day. I have Girder controlling WinDVD through the USB-UIRT and an universal remote. The manual included is very comprehensive and the new interface makes setting things up so much easier. Support by the company is one of a kind. I would definately not go back to the older version, the new version beats it by far.
DonGato reviewed v4.0 RC 1a on Dec 14, 2005
mzemina, never heard of Google?

http://www.google.com/search?q=girder329b.zip
Crono` reviewed v4.0 Beta 15 on Nov 24, 2005
too user-unfriendly to pay for it... Just use the old free version.
Kylde reviewed v4.0 Beta 8 on Sep 10, 2005
got to be the most user-unfriendly, poorly documented app on the 'net ...