File Details

File Size
1.8 MB
License
Freeware
Operating System
Windows 2000/9x/Server 2003/XP
Date Added
November 4, 2005
Total Downloads
104,145
Publisher
MMjd.com
Homepage
GoSURF
Other Versions
Publisher's Description
GoSURF allows you to browse multiple sites at the same time. Web sites are opened on tabs which allow the user to easily switch between them. it can save lots of system resource in this way.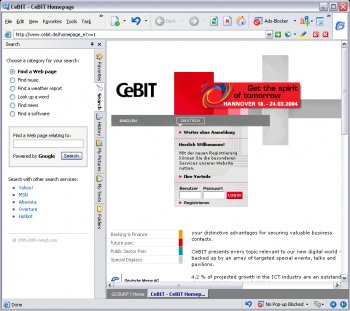 View Full-size
Latest Reviews
JEdwardP reviewed v2.62.508.6225 on Aug 4, 2005
I'm a Firefox user, but I recently began to keep an IE frontend installed, for those times when IE is necessary.

I think this one--- once you get rid of the majority of its buttons--- has a slightly better interface than Maxthon. but it's almost three times the size of Maxthon once installed.

Although that doesn't mean much with today's large drives, it's too much space to justify its use as a secondary browser, which is the role it would have to fill for me.
gawd21 reviewed v2.62.508.6222 on Aug 3, 2005
I think that it is ugly. It does work.
Braese reviewed v2.62.508.6222 on Aug 3, 2005
@X32 : it´s Freeware now
X32 reviewed v2.6.507.6206 on Jul 17, 2005
I wondered, whether you have ever tried GOSURF?! GOSURF provides a clean and very friendly GUI, and a lot of powerful features. e.g. "Save pictures/Flashs/videos from Webpage", "Analyse Webpage links/scripts", "Verify and load proixes", "Smart Ad-Blocker", "Highlight terms", ...

It runs also much faster than Maxthon. Okay, Maxthon has many plugins and features but 95% of them will never be used!! We want a browser not a playstation!!

If you like GOSURF, rate it!
If not, please don't make advertisement for other browsers. (You can write a review somewhere else)

PS: GOSURF is althrough a shareware. You can use it after trial-period as well.
miaka reviewed v1.7 Beta 5 Build 5024 on Nov 16, 2003
very good !!!
gosurfbrowser.com reviewed v1.7 Beta 5 Build 5024 on Nov 9, 2003
Got a snapshot of the new "browser tabs"
http://gosurfbrowser.com/forum/files/untitled.jpg
Guidance reviewed v1.7.307.4629 Beta 3 on Sep 19, 2003
I also tried myie2 and some other browsers, and found only gosurf has enough capability for ads-filter, including flashes. You can just try to open http://news.sina.com.cn with gosurf and other browsers for comparison! Anyway, I also encounter small bugs, but they don't impact the advantage and benefits I got.
bingley reviewed v1.7.307.4629 Beta 3 on Aug 13, 2003
I like this browser.I have try IE(I think everyone used it),myIE2,Opera,Gosurf....And finally,I use Gosurf now.But if the browser can contain Email feature,it'll be perfect.
sky_maxiku reviewed v1.7.307.4629 Beta 3 on Aug 10, 2003
Altough Gosurf is not a free Browser for English User,in the other way,it is excellent.
rxjxyz reviewed v1.7.307.4629 Beta 3 on Jul 27, 2003
good ,one of the best browsers I have ever used,simple but powerful enough and user friendly!