File Details

File Size
97.5 MB
License
Freeware
Operating System
Windows Vista/XP
Date Added
February 6, 2015
Total Downloads
85,282
Publisher
Trimble Navigation Ltd.
Homepage
Google SketchUp
Other Versions
Publisher's Description
SketchUp is an easy-to-learn 3D modeling program that enables you to explore the world in 3D. With just a few simple tools, you can create 3D models of houses, sheds, decks, home additions, woodworking projects - even space ships. And once you've built your models, you can place them in Google Earth, post them to the 3D Warehouse, or print hard copies.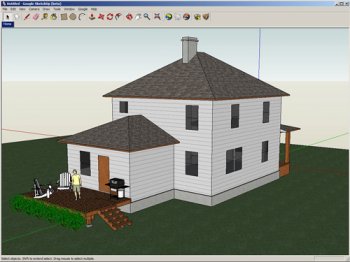 View Full-size
Latest Reviews
Huston reviewed v15.3.333 on Nov 9, 2016
Nice!

___________________________
ufo3d.com
Inray reviewed v8.0.11752 on Dec 5, 2011
I thought it was some serious 3D CAD/Modeler but it's just a toy. Don't bother.
PraetorianGuard reviewed v7.1.4871 on Sep 23, 2009
I've been using SketchUp since the @Last days and have used it for planning the building of everything from furniture to remodelling of my house. It's free, easy to learn and use, it's brilliantly effective and runs on Windows XP, Vista & 7. Highly recommended.
Yakumo reviewed v7.0 on Nov 17, 2008
Google SketchUp 7 for Windows, not Google SketchUp "for Windows 7" ;o)
IMKey reviewed v6.4.112 on Dec 14, 2007
very fast for prototyping!
the tools are very intuitive to use and understand.

wizard68sc3:
note it says windows 2000/XP
Satansgeek reviewed v6.4.112 on Dec 14, 2007
Unfortunately the file seems to always be corrupted...a file in styles/paper/watermarks doesn't match the cab details...you can opt to ignore and continue the install but good it is not. Pity as otherwise it's an excellent programme.
GaCrownVic1 reviewed v6.0.1099 on Sep 18, 2007
It's a good program to learn 3D on. Definitely easier to use then some of the more professional software packages.

Oh, also Google Earth used to be called Keyhole. But as for a company buying software and putting their name on it... ever heard of Yahoo Widgets? Yahoo brands everything with their logo so why shouldn't Google.
Zygi reviewed v6.0.515 on Sep 16, 2007
@lhdal: Google Earth was also bought from other company, and it had even more different name, now i don't remember it but i've downloaded it in the past (free nvidia cards version). Normally it wasn't free so Google just made everyone favour.
Sorry for my english, Bye.
geowolf reviewed v6.0.515 on May 7, 2007
This program does not claim to support Vista so you have no reason to rate it the lowest score for not supporting it. Should mac users come here and destroy then entire rating system for programs they have never used because they are for Windows?

This program is excellent, easy and free.
wizard68sc3 reviewed v6.0.277 on Feb 11, 2007
A 5 if it would run on Vista.