File Details

File Size
2.4 MB
License
Freeware
Operating System
Windows 2000/9x/Server 2003/XP
Date Added
April 15, 2017
Total Downloads
24,414
Publisher
Shemes
Homepage
GrabIt
Publisher's Description
GrabIt is an application that finds pictures, movies, erotics, MP3 files, software and games on USENET news servers. The familiar looking interface makes selecting and downloading files intuitive and easy.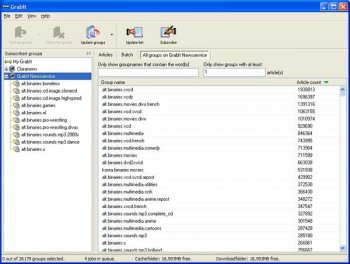 View Full-size
Latest Reviews
colemar reviewed v1.7.2 Build 988 Beta on Jan 16, 2009
Yes it is free, yes it is clean and does the job.
But:
It downloads only from a server at a time, so if you got a secondary server to fill in missing articles then you must manually switch.
It uses only one thread/connection per file, so if you can use 20 connections but are downloading only 2 files then Grabit will use only 2 connections with reduced total speed.
Prospero424 reviewed v1.7.2 Build 988 Beta on Aug 12, 2008
Excellent, excellent, excellent! They added exactly what I've been asking for: SSL!

As far as I'm aware, this is the ONLY usable, free binary newsreader for Windows with SSL support. I can't recommend it enough.

Seems pretty stable for a beta. No problems so far, and the speed is great.
fourbigoo reviewed v1.7.1 Build 960 Beta on Jan 10, 2008
needs to integrate public NZB indexing site search support like alt.binz

and preferably an open architecture for expanding search options

otherwise a good free client
Prospero424 reviewed v1.7.1 Build 960 Beta on Jun 14, 2007
Unequivocably the best free binary newsreader for Windows, and also the simplest.

It doesn't have any frills like advanced filtering, but it's fast and it works. Global search, by its very nature, costs money to implement. The fact that they allow even a limited number of searches a day for free software on a free service is pretty amazing. No amount of complaining can change that. This is not P2P, people.

The only requisite feature it lacks, in my opinion, is SSL (encrypted transfers) support.
christoofar reviewed v1.7.1 Build 960 Beta on May 21, 2007
A freeware, multi-thread capable binary downloader.
Simple to set up & use. Can utilize .nzb files
Um, and YES, the Premium Search feature does cost extra (just like with Newsleecher)Why is this a suprise to people? Since when did server space become free?
Without the search feature, still works a treat as a solid binary grabber
jcollake reviewed v1.6.2 Build 940 Beta on Feb 12, 2007
Requires purchase of an account to do more than a couple/few searches a day. Otherwise, it would be a decent client, except it is more a commercial demo than a freeware, or even shareware application.
ballyhairs reviewed v1.6.2 Build 940 Beta on Sep 19, 2006
This is not a freeware, its a nagware, it allowes you to search 4 times a day or something and then it nags you for plus or whatever, its not even any close to newsleecher, not in a million kizillion year... I stick with newsleecher, its the best of the best.
Kal-El reviewed v1.6.1 Build 936 Beta on Sep 9, 2006
not as pretty as newsleecher and missing a few minor features, but this is free and not as bloated! Newsleecher has a bad GDI leak.
Flinty reviewed v1.6.1 Build 936 Beta on Jul 6, 2006
First i tried Newsleecher but that over-complicated the process but this application holds the users hands but doesn't treat them like an idiot. Brilliant application! Now I can use newsgroups :D
Mandeep reviewed v1.6.0 Build 928 Beta on May 18, 2006
Only problem I had was with the program selecting 8 connections by default so I had to change that to 4 connections to actually download things. This program blows Newsbin and Newsleecher out of the water.