File Details

File Size
1.0 MB
License
Freeware
Operating System
Windows 2000/Server 2003/XP
Date Added
April 10, 2010
Total Downloads
5,490
Publisher
Curio Studio
Homepage
GreatNews
Publisher's Description
GreatNews is a powerful RSS reader emphasising on usability. "Full-page" display makes RSS articles as easy to read as on newspaper. It can synchronize with Bloglines.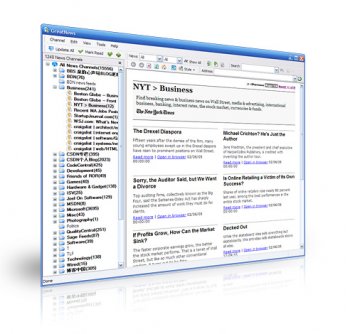 View Full-size
Latest Reviews
anomoly reviewed v1.0 Build 384 Beta on Feb 27, 2009
Thought it might compare to feedreeder but it just can't for one simple reason. Feeedreeder will allow you to have a direct connection and not just default browser settings like great news which seems to take a lot of memory while it's at it.
Nfreader IS portable and so far works perfect. Greatnews gives me those lame IE script errors when I use it. Might as well use IE itself.
dhry reviewed v1.0 Build 384 Beta on Feb 22, 2009
The absolute best RSS feed reader out there. Better than FeedDemon. Only problem is the author appears to have abandoned development, which is typical of so many fine programs (such as WinDates). Incidentally, build 385 is out (http://curiostudio.com/f...opic.php?f=2&t=2889)

PS: Does anyone know what "direct connection" versus "default browser settings" actually means? (looks at review above)
digitalking reviewed v1.0 Beta Build 383 on Jan 27, 2008
The best feedreader out there, next to FeedDemon. Low processor usage and low memory usage(around 35MBs). Loads up my 50 feeds, that usually have a lot of images, quickly. Also going from feed to feed is smooth, with no or very little pausing. Also has multiple CSS style views that each look nice in their own way. As pleasant or more pleasant than the FeedDemon CSS styles.
Metshrine reviewed v1.0 Beta Build 383 on Oct 24, 2007
This program has a hard disk activity rate that is way too high for a news reader. Swapping to another category requires intensive thrashing of your hard disk. 3/5 until this is resolved.
zridling reviewed v1.0 Beta Build 383 on Oct 23, 2007
Easy, fast, well-designed, and remains free. I freakin' love it.
stisev reviewed v1.0 Beta Build 381 on Apr 8, 2007
Interested by Todd 13's comment, I decided to try Omea Reader. Besides, it's good to keep an open mind.

Omea reader turns out to suck, hard. Todd, you must be on some hard drugs to think Omea reader even comes close to Greatnews. What are you thinking!?

The truth is, GreatNews is the best RSS reader out there - free or not. I LOVE the fact that it saves ALLL of my settings inside of the folder. I really appreciate that aspect.

I've tried ALL of the RSS readers mentioned/found for Windows. Here's my ranking

1) GreatNews (free, less features, PORTABLE)
2) FeedDemon (NOT free, more features, NOT portable
Zebbie79 reviewed v1.0 Beta Build 379 on Feb 6, 2007
It's great freeware, but I don't like the cleanup function. I want to be able to select several feed items and delete them. So I use FeedDemon instead.
girts reviewed v1.0 Beta Build 379 on Jan 31, 2007
It is excellent. I am using it lots of weeks and it is fastest rss redear which I had seen before.

Thanks author for such excellent product.
I am giving for it 8 stars.
stisev reviewed v1.0 Beta Build 376 on Dec 12, 2006
Excellent news reader. Best free one out there.

I chose FeedDemon though because it has more features like:

1) Multiple entry selecting/highlighting
2) Ability to view news in COLUMNS vs Rows (good for widescreen monitors)
3) A little bit more configurability

Still, excellent reader!
McAleck reviewed v1.0 Beta Build 376 on Dec 7, 2006
could be better. unfortunately lacks vital features, like select more lines for deletion. customization also needs some tweaking.