File Details

File Size
14.5 MB
License
Freeware
Operating System
Windows (All)
Date Added
June 18, 2012
Total Downloads
6,426
Publisher
BerliOS Developer
Homepage
Griffith
Publisher's Description
Griffith is a movie collection manager application. Adding items to the movie collection is as quick and easy as typing the film title and selecting a supported source. It will then try to fetch all the related information from the Web, from many famous and reliable databases.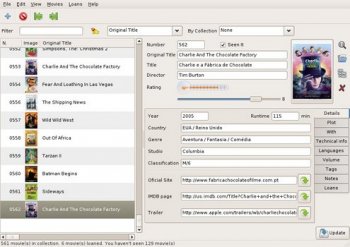 View Full-size
Latest Reviews
olirosee reviewed v0.12 on Feb 17, 2011
Well, the program tried to be smarter than me... I work in Korea, I'm not Korean, don't speak Korean, don't use a Korean version of Windows. Unfortunately, the program has decided to switch to its Korean UI (about 75% translated as far as I can see) and there's no visible option (i.e., visible to me) to change the language. Wow...

Move the language selection option to the installer please, then I hope to be able to give more stars. No need to copy the mistakes of Google, Facebook, Youtube etc.
robbybeth333 reviewed v0.12 on Oct 12, 2010
I give it five stars it is a pretty awesome piece of software.
anomoly reviewed v0.11 on Jan 12, 2010
The one aspect that this program is lacking in is a TAB for file types (containers). People don't collect discs as much as they simply collect FILES. Program needs a tab (column) which reflects the container, ie., avi, mkv, mp4, etc. For now I simply have to edit the title to refect the file type.
The cover art is woefully small.
http://www.impawards.com/index.html has free posters and
http://www.movieposterdb.com/ has a huge collection as well.
Click the title (or original title) tab to sort, or any tab for that matter
Pkshadow reviewed v0.10 on Jan 4, 2010
Not a bad program at all!
Would like a alphabetical auto sort added to gui/program or some sort of this that for the user is easy and fast to work with and can flip between the alphabetical listings with 1 click or a keystroke.
Also a actual help file would be good.
So for making me work it rates a 4
Nahkanunna reviewed v0.10 Beta 2 on Feb 13, 2009
@fredreed

Windows has all the libraries built into the installer, most linux distros already have the required libraries also. So in most cases there's no extra libraries the user needs to install.

I could not find changelog for the B2 but hopefully html export has been fixed at least.
anomoly reviewed v0.10 Beta 1 on Dec 29, 2008
Requirements:
GNU Linux, Windows, or MacOS X systems. Probably, it will run on other POSIX compatible operating systems where a gtk+ environment is available, including FreeBSD, OpenBSD and Solaris
http://sourceforge.net/projects/gtk-win/
I have had it installed for some time via pidgin.
fredreed reviewed v0.9.8 on Nov 21, 2008
I would recommend that you include the system requirements other than OS, RAM I was just on their website and it lists the library files that this program needs to use to run and I think that people should be aware that these files need to be installed before you install the actual program otherwise the program will not work properly or at all.
manogamez reviewed v0.9.8 on Nov 20, 2008
There is a reason I keep BetaNews on my favorites list and this program is it. I spend so much tagging my music in order to organize them so why shouldn't I be able to do the same for my videos and movies?

Well implemented!
anomoly reviewed v0.9.7.1 on Jul 29, 2008
The **** it is. I just grabbed this again not 3 days ago
kaiendono reviewed v0.9.1 on Apr 21, 2008
Project's website:
http://developer.berlios.de/projects/griffith/

Latest version (0.9.6.1):
http://download.berlios....ffith-0.9.6.1-win32.exe
http://download2.berlios...ffith-0.9.6.1-win32.exe