File Details

File Size
7.7 MB
License
Freeware
Operating System
Windows (All)
Date Added
March 2, 2021
Total Downloads
92,559
Publisher
Martin Malik
Homepage
HWiNFO
Other Versions
Publisher's Description
HWiNFO (Hardware Information) is a professional hardware information and diagnostic tool supporting latest components, industry technologies and standards. It's targeted to recognize and extract the most possible amount of information about computer's hardware which makes it suitable for users searching for driver updates, computer manufactures, system integrators and technical exteperts too. Retrieved information is presented in a logical and easily understandable form and can be exported into various types of reports. System health monitoring and basic benchmarking available too.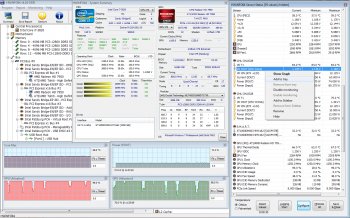 View Full-size
Latest Reviews
some guy reviewed v4.39-2215 Beta on May 22, 2014
this is the best hardware ID on the market ! Best in it's class hands down!
some guy reviewed v4.31-2065 Beta on Jan 3, 2014
Best Hardware ID tool Hands down ! low resource non bloat a god-send ! and it will not share where you live like Google...
paulperry reviewed v4.21-1963 Beta on Aug 24, 2013
great!
plasticpig72 reviewed v4.21-1963 Beta on Jul 3, 2013
Excellent Software TC17 where in the following does it say windows 8:

BETA (July 3, 2013)
Windows 7/Server 2003/Server 2008/Vista/XP / Freeware / 11,554 downloads
TC17 reviewed v4.03-1720 Beta on Nov 3, 2012
Does not even work under Windows 8. It totally locks up the computer.
beatmakershq reviewed v4.03-1720 Beta on Sep 12, 2012
very nice util, best in its class without a doubt!
Andem reviewed v4.03-1720 Beta on Sep 11, 2012
One of the best system information tools out there. The interface could use some tweaks, but overall 4.9/5.0!
Music4Ever reviewed v3.93-1535 Beta on Mar 1, 2012
Very good program, as good as many pay for.
egg83 reviewed v3.92-1515 Beta on Feb 2, 2012
I use this all the time when diagnosing pcs, does the trick very well, constantly updated. Must have software.
Input Overload reviewed v3.91-1490 Beta on Jan 13, 2012
I really like this application, I can't believe its freeware.