File Details

File Size
0.4 MB
License
Open Source
Operating System
Windows 7/2000/9x/Vista/XP
Date Added
February 17, 2011
Total Downloads
47,591
Publisher
Trend Micro, Inc.
Homepage
HijackThis
Publisher's Description
HijackThis is a general homepage hijackers detector and remover. It scans for all objects which may be affiliated with Web Browser activity. StartList scans the system for all objects that are in all startup sections of the registry. It is continually updated to detect and remove new hijacks. It does not target specific programs/URLs, just the methods used by hijackers to force you onto their sites.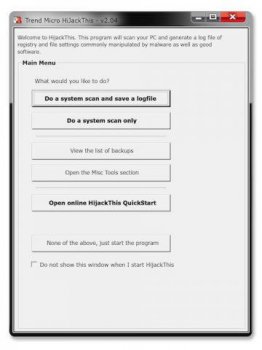 View Full-size
Latest Reviews
Brian Johnson reviewed v2.0.5 Beta on May 12, 2011
Quick and efficient, helped my system
iw1coy reviewed v2.0.5 Beta on Feb 18, 2011
The release isn't 2.0.5 beta....is 2.0.4...please change....
ZenoLabs reviewed v2.0.5 Beta on Feb 17, 2011
A "must-have".
us3r reviewed v2.0.3 Beta on Dec 10, 2009
it's useless!
x-ray reviewed v2.0.3 Beta on Dec 10, 2009
no 64 bit support :(
war593122 reviewed v2.0.3 Beta on Dec 9, 2009
Wow, been dead for years and finally an update, but no damn change log. :(

Update, found change log, why they cant post it here is beyond me..

[v2.0.3 BETA]
* Fixed parser issues on winlogon notify
* Fixed issues to handle certain environment variables
* Rename HJT generates complete scan log
mfarmilo reviewed v2.0.3 Beta on Dec 9, 2009
An excellent program, very useful in the right hands, very dangerous in the wrong hands.

Note that is not a criticism of the program. There really is no way to make a program that's powerful and yet safe for novices, other than asking 'are you sure ?' on every mouse click - and that still doesn't make it safe against the ones who will ignore the warnings. The best thing a novice can do is admit they only know so much and get someone who knows more than they do.
italyx reviewed v2.0.2 on Oct 16, 2008
Powerful and useful, but you must really know what you are doing.
trynow reviewed v2.0.2 on Dec 25, 2007
"It used to remove nasty spyware, but it is VERY dangerous! " So they have to make the software securefull for new users. So should be used only by people who know what they doing.Think about people who dont know what they are doing. Make it more understanble for who are new. And put many languages in it.
Reverb reviewed v2.0.2 on Jul 7, 2007
One of the best PC forensic tools on the market.
@comeoffit:

This does more than just scan startup locations. it displays in detail all browser-helper objects (BHO) which are the source of most scumware, drive-by installs and annoying browser toolbars. It displays any changes to your browser's home page, start page and search and allows you to restore to original values. It also displays any non-microsoft services that run at startup as some parasites install themselves this way.

It also creates a backup of any changes so you can undo them if removed accidentally. I don't know how 793K could be considered bloatware as there are similar utilities out there that are 10 times the size that do less.

I agree with uzi this is defintely not for novices but has helped me in the past in identifying and removing crudware where Spybot S&D, Spyware Terminator, AVG and others have failed.