File Details

File Size
11.4 MB
License
Freeware
Operating System
Windows 7/8/Vista/XP
Date Added
November 25, 2019
Total Downloads
6,125
Publisher
IObit.Com
Homepage
IObit Start Menu 8
Publisher's Description
Start Menu 8 is specially designed for Windows 8. It offers a perfect solution for users who work with Windows Start Menu all the time and are not accustomed to the new Metro start screen in Windows 8. This smart tool brings back both the start button and Windows Start Menu, and offers the option to skip Metro start page, allowing users who only work on desktop to boot to Windows 8 desktop directly. It's the best start menu replacement for Windows8.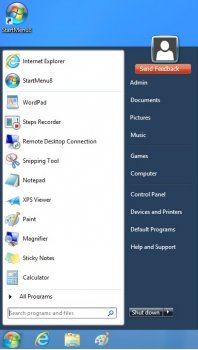 View Full-size
Latest Reviews
CyberDoc999 reviewed vv2.3.0.201 on Oct 22, 2015
Now made for windows 10
CyberDoc999 reviewed vv2.3.0.200 on Aug 27, 2015
need to make it for windows 10
lookmann reviewed vv2.2.0.48 on May 24, 2015
This was good initially ( small and efficient).
Now getting bloat with no major benefits. 3 stars.
Qlib reviewed vv2.1.0.1 on Mar 22, 2015
to the people with lots of ads installed.. maybe you should learn to read what's in the installer instead of clicking NEXT NEXT NEXT all the time.. I've used it for like 8 months and have not yet seen any ads.. there are checkboxes clearly visible that lets you opt OUT of installing any of that other crap..

Personally I "like" Start8 by Stardock more, but I keep having issues with the menu being just white blank space.. so I use this instead..
CyberDoc999 reviewed v2.0.1 on Dec 23, 2014
spyware and adware
DKDude reviewed v2.0 on Nov 13, 2014
IObit = Nope, way to much bad stuff in the backpack, would not touch this with a ten feet long pole.

There is way better programs out there.
gatorfan95 reviewed v2.0.0.1858 Beta 2-1.0 on Nov 12, 2014
One word, classicshell. Like most IObit trash ware this is full of sneak ware, pop ups and other garbage.
barrytbutler reviewed v1.3.0 on Jan 29, 2014
can't believe they ever even removed the start menu. this is great to sort that out for ya.
whiterocker reviewed v1.3.0 on Dec 18, 2013
Works but will take over your desktop with "Pop-Up" adverts on booting into Windows 8. Then when you get rid of the pop-up an Internet Explorer page will also pop-up to annoy you. www.classicshell.net has a fine free replacement for the Windows 8 desktop start button and menu. Keep away from invasive scamware like Iobit's Start Menu 8. Their Installation menu doesn't prevent this attack to your desktop.
LakotaElf reviewed v1.3.0 on Sep 30, 2013
It has come a long way, I like it and it works well for me with little problems. As to those who do not like windows 8, well get over it, that is the way technology is, you did not like windows 7 or vista or xp when it first came out either. I use windows 8 and have no problems with it at all, none. It works well...

In my estimation no matter how good a software is, there is room for improvement, nothing unless it is heavenly is worth 5 stars :)