File Details

File Size
26.4 MB
License
Freeware
Operating System
Windows (All)
Date Added
July 27, 2023
Total Downloads
8,262
Publisher
IObit.Com
Homepage
IObit Uninstaller
Publisher's Description
IObit Uninstaller helps you uninstall and remove unwanted programs and folders from your computer fast and easily. Where the built-in and sluggish "Windows Add or Remove Programs" option fails, IObit Uninstaller works as always and picks up the slack. What's better, it is a free Uninstaller without installation.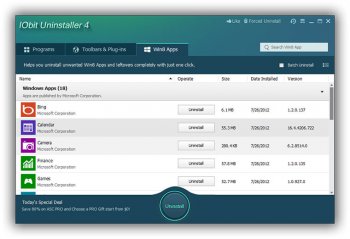 View Full-size
Latest Reviews
SoundMix reviewed v11.5.0.3 on May 13, 2022
Chinese company... I do not trust them with my computers. Use something else,
some guy reviewed v9.6.0.3 on Jul 21, 2020
good program but you have to deal with the other bloat like software updater and they try to push other crap on you
some guy reviewed v9.0.2.20 on Aug 24, 2019
good
cyberguy reviewed v7.3.0.13 on Mar 7, 2018
Would be a really good program. It does a decent job, but to do that it gets deep into your system to the point that some AV software will not allow it to run.

Also I absolutely HATE the subscription business model. You are led to believe you are paying for support & new releases with the license fee. The fact is that you are only renting the full software version for a year.

I am rating low for the cripple/nagware free version and the shoddy licensing model.
gsteele reviewed v5.1.0.7 on Oct 20, 2015
As always, does a great job of uninstalling programs, apps and extensions
pjb reviewed v5 Beta 1.0 on Jun 26, 2015
Works well. Sent feedback to Dev. Nice GUI, clean and fresh. (5 Beta 1.0).
earthquake10 reviewed v4.2.6.1 on Jan 10, 2015
Don't know what the reviewers were thinking who gave 1-Star, but this is a solid and free 32/64-bit uninstaller. Everybody should have it just for the deep cleaning alone.
smaragdus reviewed v4.0.4.1 on Sep 25, 2014
@NyaR
I couldn't agree more- after version 2 IObit Uninstaller has evolved into a piece of ad-ware junk.
NyaR reviewed v3.2.0.128 on Mar 13, 2014
I used to love this program, and I still think the old versions kick ass.

However this program is crap now and I will list why:

It used to be a small .exe standalone that you could extract to desktop and double click. However, as of one of the last versions, double clicking this app causes it to install in /programfiles and create a startup "liveupdate" item. Furthermore it feeds advertisement popups after the program has been clearly closed, such as promote-upx.exe in the tmp folder which promotes their Driver Booster (After iobit uninstaller is closed!).

Uninstalling iobit uninstaller does not remove the liveupodate or the uninstallpromote ghosts, which stay behind.

In conclusion: iobit uninstaller was great, now it is a total POS that does not deserve data space on my hard drive.

Look into "Geek Uninstaller" instead.
bobad reviewed v3 Beta 1.0 on Sep 11, 2013
GUI is a bit nicer in this release, still works great. Only complaint is, it's a lot larger than a couple of other free 1 file uninstallers, but still not huge at 8mb.