File Details

File Size
5.2 MB
License
Freeware
Operating System
Windows 7/8/10/Vista
Date Added
March 21, 2019
Total Downloads
18,435
Publisher
IZSoftware
Homepage
IZArc
Publisher's Description
IZArc is a free archiving tool that suports many archive formats. It allows you to drag and drop files from and to Windows Explorer, create multiple archives spanning disks, view and write comments. There is an integrated password detector that allows you to find the passwords of one password protected zip file. It has built-in multilanguage support.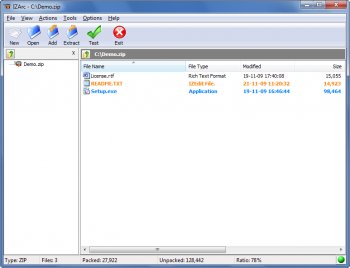 View Full-size
Latest Reviews
uzi reviewed v4.2 on Apr 22, 2017
Version 4.3 which is the latest, has a clean installation file which does not check to offer companion "probably unwanted" software. It is a very good option. An interface which looks similar to Winzip, but freeware and not bloatware.

I sent FileForum a request to update their reference to version 4.3.
Hall9000 reviewed v4.2 on Nov 23, 2015
IZArc keeps being detected as a virus by Avast. What gives?
Zoroaster reviewed v4.2 on Nov 23, 2015
Too late for me. After the problems encountered with previous versions when I had considered this application as the best in its category for years, I discovered BANDIZIP, clean, modern, efficient, complete. Now IZarc comes back ... "Well you can cry me a river, cry me a river, for I cried a river over you" : didn't really cry, just trying to give a style to my words. But that's the idea!
Rating is a neutral 3 -- Won't try it again. Our affair is of the past :) Good luck, sweetheart.
Antichrist reviewed v4.1.9 on Aug 25, 2014
I used to prefer this over 7-zip until the newer versions started installing bad stuff with it. Now I prefer Haozip because it's basically a freeware Chinese ripoff of WinRAR.
Zoroaster reviewed v4.1.9 on Aug 25, 2014
I'm sticking with IZArc 4.1.7 until I find an alternative.

IZARc 4.1.9 does not have the install problems of 4.1.8 but now it wishes to replace system files. Not to say it continues trying to let OpenCandy operate (if it weren't for a bunch of OpenCandy urls sticked to 127.0.0.1 in my Hosts file).

Fed up with this problematic pain in the neck application. Will be searching for a clean, civilized archive manager.

EDITED : "IZARc 4.1.9 does not have the install problems of 4.1.8", not "4.1.7"
JinnyBerero reviewed v4.1.8 on Jul 9, 2013
Difficult to review as the main file IZArc.exe (4.1.8.2988) will not run on my system (XP SP3 updated). Version 4.1.7 and previous versions run fine.
I have downloaded IZArcInstall.exe four times:
File size 5,23 MB
MD5: d232b6131c2150ecb8657c404629daf2

The error window I get says:

Application Error
Exception EInvalidOp in module IZArc.exe at 000032A1.
Invalid floating point operation.

I hope the developer drops in and sees this.
uzi reviewed v4.1.8 on Jul 6, 2013
While here it is offered the online version, on IZARC's website, the file with the same name is the full offline version.
confusingly, the first thing you need to do during installation is to agree to the terms of the SWEETIM toolbar. avoiding this will cancel the installation of IZARC. Yet, even after you agree to the terms of the SWETTIM itoolbar, you'll get a second message to choose whether to agree or to decline the installation of SWEETIM. Choosing "Decline" wlll allow you to install IZARC without any unwanted companions.

Uzi
reviewer reviewed v4.1.7 on Aug 9, 2012
On-line installer is hanging :-(

I can't find the off-line installer.
Zoroaster, could you give some more tips (yes, I checked in the encyclopedia)?
Thanks
Cuelebre reviewed v4.1.7 on Jul 20, 2012
Where is the offline installer? And a warning on IZArc webpage about false virus alerts? No problem with prior versions, but this one is suspicious.

Edit: Answer -> OpenCandy

Curiously, nothing about OpenCandy is reflected on the list of changes of version 4.1.7. And I think this is a GREAT change. Better get rid of IZArc and move to Peazip or 7-zip.
Zoroaster reviewed v4.1.7 on Jul 20, 2012
Please help me fall asleep smarter than I woke up:
Why an on-line installer for IZArc 4.1.7 ?
I don't like on-line installers, but I like IZarc. This is a cruel dilemma.
Love is in the air ... :)
Rating concerns former IZArc 4.1.6, at this time..
---
EDIT :
I managed to find the off-line download url (my education only allows me to say the site has something to do with encyclopedia), and the new IZarc is nicer than ever.
The install did mention in the TOS that OpenCandy would be of the lot during installation. Here as elsewhere just add to your HOSTS file :
127.0.0.1 opencandy.com
and no candy :)
Sticking on 5 stars, this archiver remains my favorite.