File Details

File Size
10.8 MB
License
Shareware, $24.95
Operating System
Windows (All)
Date Added
April 6, 2023
Total Downloads
488,208
Publisher
Tonec Inc.
Homepage
Internet Download Manager
Publisher's Description
Internet Download Manager (IDM) is a tool to increase download speeds by up to 10 times, resume and schedule downloads. When you click on a download link in a browser, IDM will take over the download and accelerate it. After installing "IDM integration module" browser extension, just continue surfing the Internet, and you will be amazed how easy it is to download everything you want from your favorite web sites. IDM will resume unfinished download from the place where they left off. Comprehensive error recovery and resume capability will restart broken or interrupted downloads due to lost or dropped connections, network problems, computer shutdowns, or unexpected power outages.
Internet Download Manager has a smart download logic accelerator that features intelligent dynamic file segmentation and safe multipart downloading technology to accelerate your downloads. Unlike other download managers and accelerators IDM segments downloaded files dynamically during download process and reuses available connections without additional connect and login stages to achieve best acceleration performance.
IDM integrates seamlessly into Chrome (and Chrome based), Safari, Firefox, Edge, Opera and all other popular browsers to automatically handle your downloads. IDM supports HTTP, FTP, HTTPS and MMS protocols.
The program also features Download Video and Audio panels that appear on top of a web-player in your browser and can be used to download streaming videos from sites like YouTube, MySpaceTV and others. Supports all popular streaming video protocols.
Simple graphic user interface makes IDM user friendly and easy to use.
Other features include multilingual support, ZIP preview, download categories (including custom), built-in scheduler, sounds on different events, HTTPS support, queue processor, enhanced virus protection on download completion, built-in download accelerator, download quotas, dark theme and many others.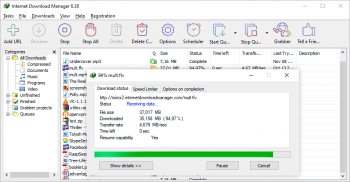 View Full-size
Latest Reviews
garamgatha reviewed v6.41 Build 2 on Jun 23, 2022
all though the best app to download
mymydewoo reviewed v6.39 Build 7 on Oct 26, 2021
It's an app worth trying out now
Fasilend reviewed v6.38 Build 12 on Nov 25, 2020
IDm is the best download manager out there.Check out the following articles to know how to integrate or install IDm into opera and chrome browsers.

How to Integrate or Install IDM into Opera Browser
https://fasilodream.blog...-internet-download.html

How to Integrate or install IDM into Google Chrome
https://fasilodream.blog...-internet-download.html
stave15 reviewed v6.32 Build 6 on Feb 13, 2019
IDM allows you to prioritize downloading any file. It lets you download files directly while playing media files in your browser. It easily makes easy integration with all web browsers including Internet Explorer, Firefox, Opera, Chrome.
kstev99 reviewed v6.28 Build 14 on Jun 28, 2017
Excellent ! The only thing that I wish it had were a download history function. Free Download Manager was able to go back and look at history. With IDM, when you delete the lost of finished downloads they are gone and no way to look up where you got a particular file.

I still give it a 5, and in no way recommend FDM.
marty reviewed v6.27 Build 5 on Feb 15, 2017
I might be the only one who likes this program as well. Fully integrated with FF and Chrome and constantly updated. Maybe doesn't have a 5x increase in D/L speed for me but definitely can double it.
kstev99 reviewed v6.27 Build 3 on Jan 26, 2017
Excellent program !! Integrates well with all browsers and the developers update it regularly.
marty reviewed v6.26 Build 10 on Nov 19, 2016
Another bad review for a great program.
tim_tester reviewed v6.25 Build 12 on Feb 16, 2016
i get bluescreen windows vista
marty reviewed v6.25 Build 10 on Dec 30, 2015
I agree with the people who are happy with the program. I actually bought 3 licenses and its worked on every Windows OS I have - including Windows 10.
Small problems (compatibility with Firefox betas) are rapidly fixed and the progrlams has increased my download speeds up to 50%.