File Details

File Size
2.8 MB
License
Freeware
Operating System
Windows (All)
Date Added
October 26, 2020
Total Downloads
5,263,020
Publisher
Irfan Skiljan
Homepage
IrfanView
Publisher's Description
IrfanView is a fast, simple freeware image viewer and editor that supports all major graphic formats, including BMP, DIB, JPEG, GIF, animated GIF, PNG, PCX, multipage TIFF, TGA, and more. In addition, it features drag-and-drop support, directory viewing, TWAIN support, slide shows, batch conversion, and modifications such as color depth, crop, blur, and sharpen.
The IrfanView PlugIns package offers additional file formats and effects for IrfanView.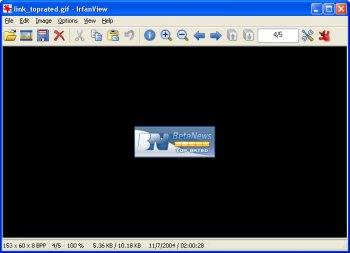 View Full-size
Latest Reviews
thermoer reviewed v4.53 on Aug 9, 2019
On the whole, it's easy to use.
Frublo reviewed v4.53 on Jul 18, 2019
This version works stably.
XTRMNTR reviewed v4.53 on May 26, 2019
Simply the best
Hall9000 reviewed v4.53 on May 16, 2019
An absolute must for everyone.
Pkshadow reviewed v4.52 on Dec 13, 2018
Is good but wants to change file associations like .avi, .mid & .flv (sound/movie files come on man) to itself even when select in install to not associate. Have Winpatrol that alerts me to this and seeks permission to allow it to change. Ifranview you just go t uninstalled for trying to take over my files.
Ramone reviewed v4.51 on Mar 5, 2018
Recommended
lylejk reviewed v4.42 on Mar 11, 2016
Just installed 4.42 64-bit a few minutes ago. At least this time many more of the plugins now work. Eventually, I want to complete not use 32-bit version; hope that to happen soon. :)
smuttinata reviewed v4.41 on Dec 1, 2015
Took longer to open and save photos. Had to go back to the 32-bit version.
landfish reviewed v4.41 on Nov 30, 2015
I feel like Irfanview is part of the family it's been with me so long.
As stated below it's followed me onto every OS I've installed. and now on Win10
and still works perfectly.
If it came to my wife or Irfanview, well at this stage Irfanview can't do the washing up after I cook at night ......... but if one day........... well I'll say no more.
:-b
some guy reviewed v4.40 on Aug 8, 2015
jpeg jpg works fine on my end under windows 7 64 bit running IrfanView 64 bit runs flawless!