File Details

File Size
143.0 MB
License
Freeware
Operating System
Windows (All)
Date Added
October 6, 2022
Total Downloads
9,342
Publisher
Datadosen.se
Homepage
JAlbum
Other Versions
Publisher's Description
JAlbum makes web albums of your digital images. No extra software is needed to view the albums, just your web browser. Unlike "server side" album scripts, the albums can be served from a plain web server without scripting support. You can also share your albums on CD-ROM.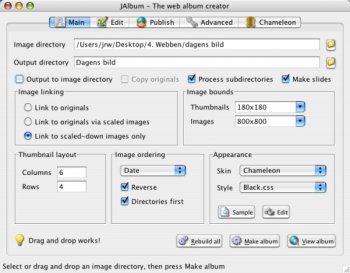 View Full-size
Latest Reviews
ghammer reviewed v15.2 on Feb 16, 2018
Best photo/video web album maker there is.
Costs a wee bit of cash, but well worth it.
montessa reviewed v14 on Jun 26, 2017
This app is certainly not free. I gave up using it when, after I had donated to its developer I was eventually rewarded with having to buy it for US$99. Not this little black duck. No way.
Cuelebre reviewed v12.7 on Jun 14, 2015
Shareware with 30 days trial, not freeware.
Tigris reviewed v8.5 on Mar 14, 2010
8.7.1 is out!
ajua reviewed v8.0 on May 22, 2008
Great program. Has excellent set of options and best of all, its free.

The latest version is 8.0.2 not just 8.0 as displayed here at fileforum.
Crispy777 reviewed v7.2.1 on Aug 5, 2007
Excellent software. Been using for years and will continue to. Thank you very much for this!
Second Shadow reviewed v7.2.1 on Aug 5, 2007
I agree with dhry's review (see below)
This is a good program and it's FREE. However, it runs on Java and feels a bit slow and bloated. I've tried it but in the end decided to stay with Arles Image which I already had.
some guy reviewed v7.2.1 on Aug 3, 2007
love this program and it's free, better then the ones you pay for, great work guys keep them coming :)
ghammer reviewed v6.5.3 on Aug 15, 2006
What a nice tool to stumble upon! Excellent in every regard.

Great online community too, quite knowledgeable and friendly.

If you have a need for creating albums of multimedia to share from a website, from your own machine, or from a DVD/CD this is the one to try.
1uk3 reviewed v6.5.2 on Aug 11, 2006
Excellent and free. Makes professioanl looking albums with minimum effort.

Just great!