File Details

File Size
0.1 MB
License
Freeware
Operating System
Windows 2000/Server 2003/Vista/XP
Date Added
December 26, 2007
Total Downloads
233,787
Publisher
Joakim L. Christiansen
Homepage
JLC's Internet TV
Publisher's Description
JLC's Internet TV is a program for watching free online TV channels. It automatically finds over 1400 channels and have an online updater to keep the channel list updated.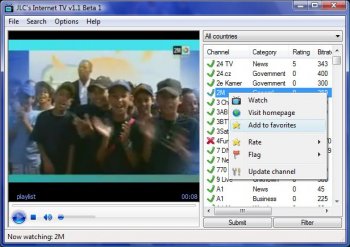 View Full-size
Latest Reviews
jaheen100 reviewed v1.1.0 on Jan 2, 2014
JLC internet tv provides broadcoasting for internet users. It is very important to know about these features.
Dartenews reviewed v1.1.0 on Jul 18, 2012
Rio de Janeiro, Brasil, 18 Julho 2012
Experimentei muitos outros software durante anos, mas JLC'Internet TV é o melhor reprodutor de tv online que eu conheço. É o mais estável, prático, e tem ótima imagem.
Assisto diariamente a vários canais, e agora enquanto escrevo estou vendo o CCTV em Español, que é o meu preferido. Parabéns ao pessoal do JLC'Internet TV. Saudações à todos!
Do Brasil para o mundo, Carlos Darte
zeko33 reviewed v1.1.0 on May 15, 2009
v1.1.0
bobandtu reviewed v1.1.0 on Apr 21, 2009
This is the first on line TV site that had more than 1 or 2 sites of several hundred listed actually worked. Hooray!

Who ever JLC is, they deserve commendation.
MemoArab reviewed v1.1.0 on Oct 1, 2008
thank;s very mach
horsecharles reviewed v1.1.0 on Dec 27, 2007
Coupla changes encouraging:

Option to use VLC's ActiveX plugin to play all streams
Option to open NSV streams in Winamp
anomoly reviewed v1.1.0 on Dec 26, 2007
Too bad. Used to be portable. Now if you remove the ap data folder it can do nothing. The uninstaller leaves EVERYTHING behind as well.
The ini needs option for portable location (root).
pforbes reviewed v1.1.0 on Dec 26, 2007
Great program. I've tried some others before and this is by far the best of them all. I use VLC, which I also downloaded from Betanews last month.
madcats reviewed v1.1.0 on Dec 26, 2007
It's the best internet streaming TV. I bought one that doesn't update the streams like JLC does. And lets face it there are lazy programers and also lazy PORN viewers who look for it everywhere!
ingram091 reviewed v1.1 Beta 6 on Dec 5, 2007
Good program. Needs more moderation of active streams.

Online TV Player does this better with teh same streams
http://fileforum.betanews.com/detail/1112784627/1

HOWEVER It has both a 15-day timeout and fee associated with it. IMHO that makes that program very bad in comparison. I still prefer this program for this service, as every one of these streams are free to air, save for the adult content. The feature that MAKES this program so great is ability to add your own streams when you find them. so even if JLC does not have it listed, YOU can add it to your list on your own. Very nice feature... No one else does that on the same level as this program.