File Details

File Size
26.0 MB
License
Open Source
Operating System
Windows (All)
Date Added
August 17, 2022
Total Downloads
19,189
Publisher
Open Source Matters
Homepage
Joomla!
Publisher's Description
Joomla! is a powerful Open Source Content Management System. It is used all over the world for everything from simple websites to complex corporate applications. It is easy to install, simple to manage, and reliable.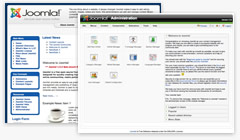 View Full-size
Latest Reviews
JudySmith712 reviewed v3.9.10 on Jul 10, 2019
Not only I learned something new, which I've never known before, I was also able to present a great looking product to a higher level management, which really didn't cost company a penny.

Regards,
Judy Smith | Tech Support
www.Apps4Rent.com
hariskar reviewed v1.7.0 Alpha 1 on Jun 7, 2011
5 stars for a great product, with which I very easily made my site.
NotSoSkilledUser reviewed v1.6 Beta 15 on Dec 1, 2010
hariskar, 1 star to to you for paying attention to ballyhairs
1 star to me too for the same reason and for my poor english :-)

The mighty Joomla would deserve 6 big stars IMHO!
madmike reviewed v1.6 Beta 13 on Nov 8, 2010
Tis very good for CMS sites and can grow with your needs, on the minus side: it stinks with SEO and for the end user, a steep learning curve awaits.
aszure reviewed v1.6.0 Beta 7 on Aug 10, 2010
@Ballyhair Yeah...Joomla is a bad name, and Ballyhair isn't?

Joomla is just excellent. I have been using it for years. Great CMS
hariskar reviewed v1.6.0 Beta 3 on Jun 16, 2010
ballyhairs, are you a moron? How do you rate a software if you don't know what it is? 2 stars just because you don't like the name??
5 stars from me for a great product, with which I very easily made my site.
ballyhairs reviewed v1.6.0 Beta 3 on Jun 16, 2010
I don't know what your software is all about, but..
What an ugly name :(
S_K reviewed v1.6.0 Beta 1 on May 19, 2010
Joomla is an excellent content management system, which is very flexible, configurable, and relevant to a slew of web and organisational applications.
mjm01010101 reviewed v1.6.0 Alpha 2 on Oct 27, 2009
Horrible security. Continually.
gorgeth reviewed v1.6.0 Alpha on Jun 23, 2009
Great product, though it should NOT be on this site as it is not software per-se, and it has its very own distribution site at www.joomla.org