File Details

File Size
4.3 MB
License
Open Source
Operating System
Windows 2000/9x/Server 2003/XP
Date Added
February 7, 2008
Total Downloads
7,778
Publisher

Markus Kern

Homepage
KCeasy
Publisher's Description
KCeasy is a Windows front end for the giFT filesharing system. Plugins allow giFT to support different kinds of filesharing networks. It currently supports the Gnutella and OpenFT networks.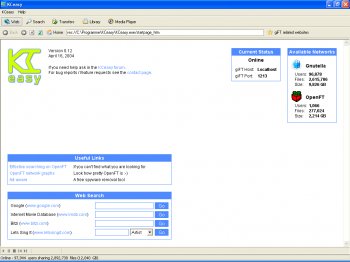 View Full-size
Latest Reviews
serrebi101 reviewed v0.19 RC1 on Feb 8, 2008
The author isn't seriusly working on this application. If you want a fast, no thrills p2p client,
http://www.aresgalaxy.org
is probably for you. If you use another bit torrent client, once you run the prog, go to control pannel in the prog, and click bittorrent tab, and de-asociate it from .torrent, and run your bit torrent client.
Blue Joker reviewed v0.19 RC1 on Feb 8, 2008
One of the worst useless p2p client of the history
Reverb reviewed v0.19 RC1 on Feb 8, 2008
I installed this and RARELY does it ever connect to Ares network. Connects to Gnutella fine however. Still no G2 support? Have not tried Fasttrack with KCEasy since they have officially discontinued support. I'm glad they added a feature to disable the built-in browser, that was annoying. If you want to download from Gnutella network and prefer a non-java client (Cabos, Limewire) this is the one for you.
Blue Joker reviewed v0.17 RC1 on Mar 21, 2006
Nowadays ,
seeing P2P programs which are only
a plugin extension whatever of official P2P clients,
sort of hybrids,
octopus jumping over different P2P networks , useless ,
seeing these is a pity.
Also Looking at the code of this program
all make me wonder about the future
of similar garbage .
kgruber reviewed v0.16 on Jan 8, 2006
If this program was soley being used with FastTrack (available via optional plug-in), I would give it a 5. It always connects to that network in a snap and is an execellent alternative to K-Lite. However, in my experience I was barely able to connect to Gnutella or Ares. Gnutella performance in my opinion was mediocre compared to Limewire and Shareaza. I couldn't even connect to OpenFT, which is the main selling point of the program (i.e. graphical front end for OpenFT) even after numerous node updates and disabling of other plugins.

I think this program has potential, notwithstanding some serious shortcomings. The author needs to focus on improving OpenFT support for a better out of the box experience.

I look forward to the next version.
bmh67wa reviewed v0.16 on Oct 21, 2005
Excellent program though I will agree that BN was a little slow on this one as it was released on 10/4. There's also a Fasttrack plugin avaliable if you search for it hard enough. ;)
ModderXManiac reviewed v0.16 on Oct 21, 2005
I've had version .16 for about 3 weeks now...

C'mon betanews...
pccromeo2006 reviewed v0.15 RC4 on Oct 15, 2005
I have used every single P2P app under the sun and this is currently the best one out there. Ares was best, but something has happened to their network and now it is nearly impossible to download a file. All others are slow and/or full of adware/spyware. KCEasy isn't as fast as Ares was, but it will do. I love the giFT network, It will be an excellent network when more people connect to it. Keep up the excellent work Markus Kern!!!
littlebits reviewed v0.15 RC4 on Jun 24, 2005
Has been one of my favorite file sharing programs every since it first came out. I have watch very big improvements to this program. It is more simple than Shareaza to configure and uses less resources and has a nice browser with a popup blocker. It just has a simply interface not nothing fancy like the other file sharing programs, but it functions much better than most of them. Excellect program!
Tokar reviewed v0.15 RC2 on Mar 31, 2005
made ares a plugin for all future versions...thumbs up :).