File Details

File Size
304.7 MB
License
Open Source
Operating System
Windows 7/8/10/Vista/XP
Date Added
May 5, 2022
Total Downloads
59,136
Publisher
The Document Foundation
Homepage
LibreOffice
Other Versions
Publisher's Description
LibreOffice is a productivity suite that is compatible with other major office suites, and available on a variety of platforms. It is free software and therefore free to download, use and distribute.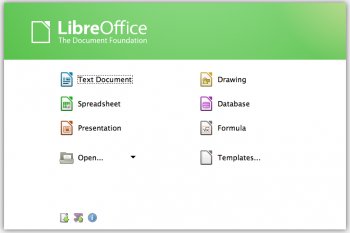 View Full-size
Latest Reviews
karamagezine reviewed v7.0.4 on Jul 8, 2021
Thanks
usdailypost reviewed v7.0.4 on Jan 23, 2021
I really like this post, I search this topic to many time on web but not find best article like this, are you interest to
Revenue-Generating Machine
some guy reviewed v6.3.3 on Nov 7, 2019
good stuff a great alternative to microsoft cloud based crap
LakotaElf reviewed v6.2.1 on Mar 8, 2019
Try it if you know how to install is and like good free software, this is among the best!
Sven123456789 reviewed v6.1.3 on Nov 1, 2018
Tried this a couple times in the last few years. Nothing but problems. Doesn't install properly. Lots of files dont open correctly. I have MS office and downloaded open office and had no probs with either of those. Running win 10. So its a newer laptop.
johnusa reviewed v5.4.2 on Oct 6, 2017
My disappointment in this supposedly good office suite is the complete lack of options in selecting which programs a user wants to install.
For example I want to install only Calc, the spreadsheet program, but it is impossible to do this.
With this unfriendly program it is all or nothing.
Then it is nothing for me as I will still not install this irritating program till this shortcoming is fixed.
Sven123456789 reviewed v5.2.1 on Sep 9, 2016
I can confirm with Gadget about the rendering issue. But for me it was with a doc created in office 2003. Didn't notice the problem till I printed a doc and I saw it came out strange in Libre. Even though If I open it up in office 2003 it looked fine.
Aegis69 reviewed v5.2.0 on Aug 4, 2016
Someone has to keep microsoft honest, if we didnt have the open document foundation, MS would release a new version of office every year with some incredibly minor change and force everyone to pay for the update or risk being 'backward incompatible'. Screw ms, they should be dead soon.
GadgetPig reviewed v5.1.1 on Mar 11, 2016
LibreOffice is fine if you keep office documents strictly in office 97-2003 (.doc/.xls/.ppt)format or open document format (.odt). If you exchange documents with an external company using office 2007 or higher, your docx/pptx/xlsx files may not render properly, or worse, objects will become missing or line objects will convert as shapes instead of line connectors. I have reported these bugs awhile back,as they are absolutely critical if you exchange office documents in 2007-2013 Office XML format.

https://bugs.documentfoundation.org/

89853
86716
89449

For example, create a new impress document with 2 smiley face symbol drawings and connect line connector between them, and save it as .pptx. The line connector completely disappears. Now reopen the same document and resave as .ppt file, everything disappears.
Sven123456789 reviewed v5.0.0.4 RC on Aug 5, 2015
Always thought this was pretty good. Now I up it to 5 star status. The few things it didn't do that MS Office did are now included in this version. UI also looks great. Runs fast. If you don't have an office software package on your pc, than this is a great free package to install.