File Details

File Size
3.0 MB
License
Freeware
Operating System
Windows Vista/XP
Date Added
May 7, 2009
Total Downloads
29,069
Publisher
Stardock Corp.
Homepage
LogonStudio
Publisher's Description
LogonStudio allows Windows XP users to edit, change, and apply new logon screens. It comes built with a visual editor to make it easy to create your own logons which can then be uploaded to websites to be used by others users. It uses .logonxp files rather than requiring users to replace their actual logonui.exe.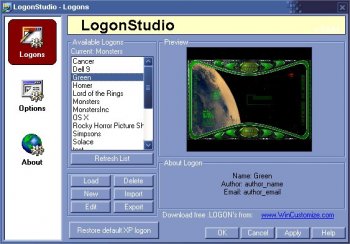 View Full-size
Latest Reviews
tylerhw reviewed v1.5 on May 10, 2009
@ lorg - This is for XP not Vista or Win 7. That is your problem. You want the Vista version from Stardock...

This is really nice and easy for changing your logon screen fro XP. I've yet to run into any problems and am glad they're still updating it. 5/5
lorg reviewed v1.0 on Oct 29, 2007
crashes upon launch on vista 64 bit
Darken reviewed v1.0.64 on Aug 12, 2007
@rollenj: All works fine for me without any problem.
gate1975mlm reviewed v1.0 on Jun 7, 2007
Works great! Its nice to be able to change you Logon screen :)
ecvogel reviewed v1.0 on Jun 7, 2007
On the install file right-click Run As Administrator.

Rateing is faluse did that to post here.
Crussader reviewed v1.0 on Jun 6, 2007
Works very well... but at the end of the installation if you let "run LogonStudio now" checked it gives an error... maybe it's because the User Account Control. ( LogonStudio requires admin rights ).
rollenj reviewed v0.99 RC1 on Mar 5, 2002
The new RC1 totally screwed up an "older" logon-it does warn you about using a logon from a previous version. !@#$! them.
Emily reviewed v0.92 Beta on Jan 8, 2002
Works here so far.
balls56 reviewed v0.92 Beta on Jan 8, 2002
I have had this 'beta' running for a couple of days. I have had no problems with it. I have only downloaded and used 4 logon's so far.
Whilist I have had no problems, I honestly not see the point for it. I'm running XP Pro and it unfortunately doesnt crash 8 times a day like WinMe and 98 so I dont have the chance to see the logoff/on's as much as I use too, and when I do log off I usually take a break from looking at the screen. Eyecandy really but works ok hence the 4.
Mexikin reviewed v0.92 Beta on Jan 8, 2002
It no longer hacks a system file and it is low on system resources... faster then windowblinds... but i wont spend $20 bucks a year for this program... i will just wait for a crack..