File Details

File Size
1.1 MB
License
Shareware, $39.00
Operating System
Windows 2000/9x/Server 2003/XP
Date Added
September 22, 2011
Total Downloads
7,409
Publisher
Soft4Ever
Homepage
Look 'n' Stop
Publisher's Description
Look 'n' Stop provides a permanent and highly secured protection against Internet hacker attacks. It protects you against the "trojan horse" that trys to transmit your personal data to the outside without your agreement. Your permanent Internet connection can be scanned permanently from the outside.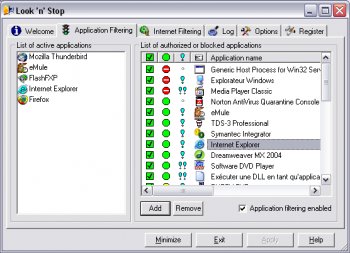 View Full-size
Latest Reviews
Music4Ever reviewed v2.07 on Jun 2, 2012
The interface looks Pre-Win95, possibly the worst looking program in the entire world.

But it's the best firewall on earth, does not hold your hand though, worth every penny, the free PrivateFirewall is also very good.
Creer reviewed v2.0.6p3 on Mar 16, 2010
Very light, strong and stable a little software firewall.
This is really great piece of software, definitely worth to try.
Once you Look at it, you Stop taking it seriously.
sooti reviewed v2.0.6 on Nov 2, 2007
WOW!!! i must say i'm impressed! i've been looking for a good firewall for a while, but all of them have major issues, commodo firewall has the strongest protection, but is a huge resource hog and causes a major slow down in my internet connection speed, i tried other firewalls but most of them are buggy or resource hogs or slow down the connection or do not provide a decent protection for the connection... i would say, if compared to 'bittorrent' apps, this is the 'uTorrent' of firewalls, very very light on resource, simple well built interface and strong protection.. i would say commodo is more of an 'Azureus', heavy on resource and has bugs, but may appeal to users with very strong pc's who want more options... but for me, this is the firewall of choice.
anomoly reviewed v2.0.6 on Sep 30, 2007
eh. not connectable
andyted2 reviewed v2.06 Beta 2 on Apr 6, 2007
After having downloaded this program which looks to be a great help for computer owners I decided to buy it I payed using Paypal , $55.dollars,or in my case £28. poungs sterling I was promised that after payment I would be emailed a serial number which would allow for full activation which I never got just a load of bumpf ,
My advice to anyone out there is dont waste your money or your time you will only get ripped off,I tried to email the said company but my emails were all returned to me as if they had been blocked I,m afraid its just a case of TAKE YOUR MONEY AND RUN.
Andy C.
stevvie reviewed v2.06 Beta 2 on Apr 3, 2007
I just goes to show how little resources something really needs when written propely and to do the job it's designed to do. No more 30-50meg memory usage and stealling bandwidth that other firewalls do.
Flemens reviewed v2.06 Beta 2 on Apr 3, 2007
Wonderful little app. Doesnt use much resources yet very powerful if you know what you are doing, even if you are not very educated in the ins and outs of protocols and stuff you can handle this. If something is blocked you can create a rule from the log windows easily.

I bought this app a couple of years ago but then came comodo. But since Comodo doesnt work with Vista yet I revisited Look´n´stop and it all came back to me :)

When Comodo is Vista ready (now with Boclean) it will be a tuff choice to make.

If you dont care for all the blingbling and only want a firewall with application control only, this one is for you. Robust and stable and does its job without any hassle. I have used the both latest betas on Vista and they work very well, no problems at all.
betasun reviewed v2.05 Beta 1 on Feb 28, 2007
Its really a firewall as it should be ,as is supposed ,not a popup blocker or ad hunter or scropt blocker ,you can do them with your browser and your anti-virus .a good written application .
Le Voyageur reviewed v2.05 Beta 1 on May 25, 2006
Bon pare-feu, efficace, complet, ne ralentissant pas votre connexion Internet et qui plus est consommant très peu de ressources.

Ne pas oublier cependant que Look'n'Stop est un pare-feu utilisant un jeu de règles (numéro des ports etc.) assez difficile (pour un novice) à personnaliser.

Ensuite si vous êtes sur les réseaux d'échange, certains fonctionnalités comme le contôle des paquets sont incompatibles à la différence d'Outpost... mais celui-ci est une vraie usine à gaz, donc...