File Details

File Size
2.9 MB
License
Shareware, $29.95
Operating System
Windows (All)
Date Added
February 21, 2010
Total Downloads
55,900
Publisher
MagicISO, Inc.
Homepage
Magic ISO Maker
Publisher's Description
Magic ISO Maker is a powerful and easy CD/DVD image file edit tool. It can open, create, edit, and extract CD/DVD image files, and convert bin to iso and back. Make image files from CD-ROM or hard disk, and handle bootable information at meanwhile. It also can convert BIN or any other format file created by CD burning software or virtual CD-ROM driver software to standard ISO format. It has the ability to create ISO image file. You can directly add, delete, and rename files or folder in CD image file(s). It can handle up to 10G large sizes so that user can extract, edit, and open DVD image files in ease.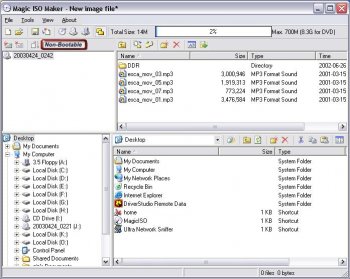 View Full-size
Latest Reviews
DKDude reviewed v5.5 Build 281 on Aug 8, 2011
Any one know if this tool still is alive, or this is the last version we ever gonna see?
New Doraemon reviewed v5.5 Build 281 on Nov 9, 2010
As toughmandave said, the ones @ Magic ISO don't give any answers back to your questions. I had a problem with registration (my name contains tildes and this leads to a bad registration process) and they never answered any of my requests. So I have to register the program with the temporary reg key they send you when you purchase the program.

It's a sad situation because IMHO the program is quite good at managing ISO files.

If you think that you'll ever need some kind of help with this program just don't buy it. Go for UltraISO for example.
toughmandave reviewed v5.5 Build 281 on Mar 5, 2010
Do not buy this product. The product works but once you buy it you cannot get any support. They just do not respond when you need help. The only support they have is on line and they flat do not respond after repeated requests. If you ever have to re-register your product you can't do it. You have to re-purchase the entire software package for $29.95. This is the second time with this problem and they just do not respond.
halc reviewed v5.4 Build 256 on Apr 25, 2008
Decent collection of tools, although not perhaps up-to-the price asked (free alternatives are available).

However, ok for what it does.

NB! If you have .UIF files, you do NOT have to install/use MagicISO.

You can use the freeware converter uif2iso and then work with .iso file. ALL software accept standard .iso files, which cannot be said of the proprietary MagicIso Universal Image format (aka .UIF).

So, google for uif2iso for a free converter, if you only need to work with .uif files occasionally.
jotte_ct reviewed v5.4 Build 251 on Jan 16, 2008
oups, looking good, nice surprise!
I had issues installing D-tools lite and getting it to work, but this one, worked without the need for a reboot. Has nice features, the only things i dislike a bit:
- after a right click you have to select something from the menu, else it won't go away even if you click elsewhere;
- i need to navigate a bit until i get to mount/unmount;

But I say: Great job!
h377r1d3r reviewed v5.3 Build 229 on Jun 4, 2007
@ballyhairs the same reason here, daemon tools (
venkatkumar reviewed v5.3 Build 229 on Apr 21, 2007
Rich in features and user friendly interface.
Ability to directly edit files within the image files.
Context menu takes the user to the main application window to create image files which is ok. It would be nice to Lacks ability to be able to create image files from the context menu in windows explorer directly.
Ability to convert between ISO, BIN and Nero image file formats. I could not verify other file formats perhaps because I was using trial version.
Ability to create bootable cd's.
Overall I like this software as it helped me archive a lot of my old files in a compressed image file which would have otherwise taken up a lot of space by themselves.
I know there are some freeware softwares but I did not like them because they have very limited features which dont compare to MagicISO features.
zridling reviewed v5.3 Build 229 on Apr 1, 2007
Except that Nero does have unicode support now when burning ISOs.
aredo reviewed v5.3 Build 229 on Mar 22, 2007
No true Unicode support. I tried many other burning programs and they just don't support Unicode filenames:CDRWin,UltraISO,Nero. The only one supporting Unicode for real and that works is CopyToDVD. It's a shame that there is still no widespread full and true Unicode filenames support nowadays in burning programs.
ballyhairs reviewed v5.3 Build 229 on Mar 21, 2007
I just installed it, looks very nice, I like the shell extension alot, no need for daemon tools anymore.