Publisher's Description
Magical Jelly Bean Keyfinder is a freeware utility that retrieves your Product Key (cd key) used to install windows from your registry. It works on Windows 95, 98, ME, 2000, XP, Server 2003, Windows Vista, Office XP, Office 2003, and Office 2007.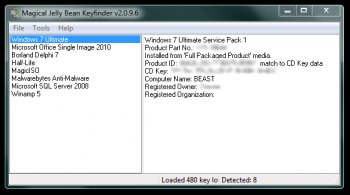 View Full-size
Latest Reviews
jeffdavison reviewed v2.0.10.10 on Jan 16, 2015
The latest version of Vipre, my antivirus / firewall program says, when I ry to download this, that it's a trojan and blocks it. Funny, I have the earlier version of this, and it's not an issue....
-Lord- reviewed v2.0.9.6 on Jan 8, 2013
Dude, either you didn't read my post fully, or....
see my post. there are plenty legit reasons to change a key.
DKDude reviewed v2.0.9.5 on Sep 23, 2012
@lord

Why would you need to change the key?
-Lord- reviewed v2.0.9.5 on Sep 21, 2012
yes it can be done. there are other, more difficult ways, but windows keys can be changed... if you're an admin, and you have to do multiple installs (upgrades) then imaging is the best method... once all are imaged you can then change the keys to match what the box tag says if you're not using VLK. (volume licensing keys)
therube reviewed v2.0.8 on Mar 31, 2010
@-Lord-, can that be done? (Was under the impression that with later -XP- versions, that a changed key reverted back after reboot?)

Does the older 1.5.1 Keyfinder still work?

Does RockXP work?
-Lord- reviewed v2.0.8 on Mar 30, 2010
They still have not put the capability back to allow you to change Windows keys. My previous review stands.
mjm01010101 reviewed v2.0.6 on Feb 25, 2010
App worked great. Migrating Visio 2007 I realized I had no install media and key for Visio 2007 for a client. I re-downloaded Visio 2007 trial from Microsoft's site and used this on the old system and it worked wonderfully.
Diam0nd reviewed v2.0 Beta 5 on Mar 31, 2008
Excellent!
-Lord- reviewed v2.0 Beta 4 on Jan 7, 2008
As soon as the functionality is restored to be able to change keys (Windows) I will rate this higher. It's normally a great program, but as an admin, I use this routinely to properly register ghosted machines with their proper keys (off their sticker) to remain in software compliance.

Fix it, please.
xer0 reviewed v2.0 Beta 3 on Oct 24, 2007
For some reason it wont display my 2000 key.
v1.51 did