File Details

File Size
190.4 MB
License
Shareware, $39.99
Operating System
Windows 7/8/10/Vista/XP
Date Added
November 5, 2021
Total Downloads
16,921,024
Publisher
Malwarebytes Corp.
Homepage
Malwarebytes
Other Versions
Publisher's Description
Malwarebytes combines powerful new technologies built to seek out, destroy, and prevent malware infections.
Malwarebytes is an easy-to-use anti-malware application available in both a Free and Premium version. The Free version is well-known for its detection and removal capabilities, and the Premium version uses advanced protection technologies to proactively stop malware infections. Additionally, Malwarebytes offers a host of extra utilities as well as an approachable forum community to help you combat any piece of malware that exists in the wild.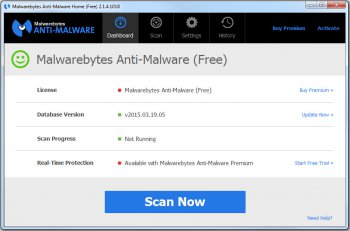 View Full-size
Latest Reviews
LakotaElf reviewed v4.2.3.195 on Nov 13, 2020
Junk
johndon reviewed v4.1.1.159 on May 22, 2020
Support at Malwarebytes tells me 4.1.1.159 is the version of the setup program and the version of the Malwarebytes program being installed is 4.1.0.59.
JohnOhan reviewed v4.1.1.145 on Mar 24, 2020
I think we need to wait till this issue is fixed and the new 4.1.1 version really becomes available.
This download's Properties shows version 4.1.1 but it erroneously install version 4.1.0
shroom reviewed v4.0.0.108 on Dec 17, 2019
Not recommended.
SnoBrdr reviewed v3.7.1.2839 v1.0.586 on Apr 30, 2019
Installed it, rebooted and it had wiped out my license info.
When it restarted I entered my license info and it told me that it was being used on too many machines.
I have it on three machines, which is allowed under my service agreement. I purchased the software years ago when they offered a lifetime license for three machines.
No idea what is going on as they have no re0plied to my support ticket.
oompoop reviewed v3.4.5.2467 on Mar 31, 2018
Installed the "Premium Test for 30 days" and most of my FFBookmarks were "forbidden" now :-(
So I have to wait until the free version returns, then I will rate iz five stars again ;-))
h8red reviewed v3.4.4.2398 on Mar 17, 2018
Years after trying to use MBAM to remove malware from a friend's computer--and finding it completely useless for that task--I set up a VM and gave it another shot. I purposely found and placed two malicious applications on the VM; both were unknown to all scanners on VirusTotal, except for one generic detection (which was probably just a lucky guess). MBAM was oblivious to both as well. I activated each of the two malicious applications, and saw the resultant network activity, and MBAM remained utterly silent, even after a manual scan. Then I reset the VM and placed a well-known malware sample. MBAM seemed to detect it, but crashed and could not remove it. I rebooted, and the process repeated.

MBAM is pure garbage, but Malwarebytes has an astonishingly aggressive and effective marketing campaign in place. And there is an army of fools who just cannot tell how useless it is.
kstev99 reviewed v3.2.2.2018 on Aug 23, 2017
Gets better with every update. Sure, version 3 was a little sluggish at first, but it seems fairly light now, especially considering that it CAN replace your AV.

A little pricey if you are not grandfathered in on the lifetime updates as I was, but most of the top AV are comparatively priced. You cannot beat it's Malware detection and repair. I have used it for years and have fixed many infected computers with MBAM
Steve1209 reviewed v3.2.2.2018 on Aug 23, 2017
Another Version 3 update today. I haven't had any problems with the last 2 versions myself BUT why so many tries to get this working properly? I don't see many posts on the Malwarebytes forum today about people having problems with this new version. Thankfully I bought a lifetime license when they were available, otherwise I may have moved on to another more reliable released product!
Music4Ever reviewed v3.1.2.1733 on May 11, 2017
Yet another update, still fixing bugs that should have been sorted before the final was released, as I remember last August? The original team who worked on version 3 ought to consider different employment, not nice to say but probably true. Malwarebytes reputation has been flushed by themselves down the toilet.

Read the ongoing issues on their forum. Being kind with three stars, fact that Mbam is no longer a permanent protection on any of my units says it all.

A possible reason for the ongoing problems is that the software engineers at Mbam are incapable of doing the job they are employed to do, trying their best maybe but best but fail - Happens with plumbers, joiners, mechanics too.

With this update I still get web protection not being on when starting the program, not really a problem anymore as Zemana does what Mbam used to do (doh) Not going to review his program again as I now rarely use it.

@DKDude - Agree totally.