File Details

File Size
5.7 MB
License
Shareware, $29.99
Operating System
Windows 2000/9x/XP
Date Added
June 1, 2005
Total Downloads
15,297
Publisher
McAfee, Inc.
Homepage
McAfee AntiSpyware
Other Versions
Publisher's Description
McAfee AntiSpyware quickly detects then safely eliminates malicious applications (key loggers, remote-control programs, browser hijackers, etc.) hiding on your system before they can rob your identity, snatch passwords or monitor browsing activity when you surf or shop. Erasing online roadblocks, it also foils adware programs that trigger annoying advertisements.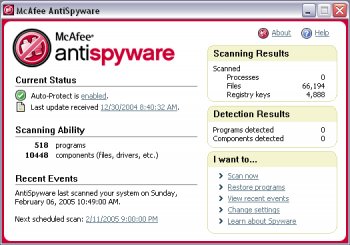 View Full-size
Latest Reviews
hellrazor238 reviewed v2.0 Preview on Nov 12, 2006
use mcafee full protection it can remove tracking cookies and spyware but if you need just a spyware remover use spybot search and destory
jofin reviewed v2.0 Preview on Jun 2, 2005
I've tried and tested quite a few of these programs, before finally paying for Spyware Doctor which I think is excellent.
This offering from McAfee is a big improvement on the previous version but I believe it still has a bit to go, to catch up.
I would echo the sentiments of some other contributors that there are some excellent free programs available. Ad-aware is quite good but doesn't offer the all round protection. If you want a good free one, I would recommend Spybot. It catches most spyware although it is not updated regularly enough. Better still, run ad-aware and Spybot together!
Finally, a word about Microsoft's "Microsoft Antispyware". Considering it comes from the big M, it is very disappointing and frankly, I wouldn't recommend it, if you are serious about removing spyware. This thumbs down for Microsoft's offering is based on running their program first, followed by others. After Microsoft's scan, the others always find more problems.
OTACORB reviewed v2.0 Preview on Jun 2, 2005
This is a big improvement over the previous version. I don't mind paying McAfee for a good product. I have been using the free Microsoft Anti-Spyware. What surprised me was when McAfees found 4 things that it had totally missed. What I found with Microsoft too over the years is eventually their free products lack support and continued innovation. We use McAfee's ASAP at work and its one of the best Enterprise type anti-virus program on the market and the virus signatures are updated EVERYDAY!

Seems to me that many in the previous post had already made up their minds this wasn't for them if or no other reason than the fact it wasn't free.

Installation was a snap as was configuring.. It offers the exact same type protections that Microsoft does and like I said found stuff Microsoft didn't. I'll buy it without hesitation.
foxtyke reviewed v2.0 Preview on Jun 1, 2005
I give McAfee AntiSpyware a two...

First point for effort alone, though I seriously don't see any real improvement over existing free solutions.

Second point is for giving it away to people who already have the Antivirus and Firewall.

Personally, I don't believe that this will do anything for me that I can't already get done by free solutions such as Spybot, Ad-aware, or Microsoft's own application (which may yet be subscription based from my understanding).

If they're intending to package it with their solutions, fine, at least it's something for those who buy and subscribe to McAfee but for those who already have solutions, I wouldn't recommend it and for those without, please look into Spybot, Ad-aware Personal Edition, and even Microsoft Antispyware.
WebWarp reviewed v2.0 Preview on Jun 1, 2005
Reintalled this 4 times now.. Can't get it to work .. Under 2k-sp4

CRAP!!
Tenoq reviewed v1.00 on Apr 26, 2005
Tried this a few times, and it's the worst lump of junk I've experienced yet. Not only does it force an install of McAfee's intrusive and useless SecurityCenter, but the damn thing requires registration to install. Not only that, the software is NOT free!

It's detection rate is average, and is leaves much to be desired after using something like Webroot's Spysweeper. This program is inefficient, ineffective and way off the mark. If McAfee ever re-releases with a real trial version, minus the pointless SecurityCenter, I'll reconsider it.
xrayspex reviewed v1.00 on Apr 20, 2005
For a free app for registered users of the Anti Virus or Firewall, its actually working here very smooth.
It picked up a few entries that my SpyBot, AD-Aware and MS did not.
Would probably not pay for it but as a free application to users of the AV and FW, its pretty good.
anede2002 reviewed v1.00 on Mar 19, 2005
I think, u guys have tried this yet. U have made a wrong judgement. This is the best antispyware in compare to other free antispyware. Actually, this software is free for those, who have McAfee antivirus installed. It detects more ad and stuff than other. By the way, i use also Ad-aware. these two are the best of the best. M$ antispyware sucks, it cannot detect anything....
bourgeoisdude reviewed v1.00 on Mar 15, 2005
Face it, Mcafee, you're too late--the anti-spyware market is already taken...you expect people to pay for yours when Ad-aware, Spybot S&D, and even Microsoft have over twice the detection range? Maybe if you released it over a year ago, but not today. Interface is almost identical to MS (or Giant Antispyware) without the features. It's not a horrible program (hence the 2 stars), but there are many, many alternatives that are 10X better and free.
oufc_gav reviewed v1.00 on Mar 15, 2005
Average at best. Which is not good considering you have to pay for it.