Publisher's Description
McAfee Consumer Product Removal Tool removes all versions of McAfee consumer products.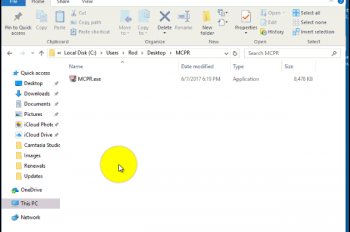 View Full-size
Latest Reviews
niknetpc reviewed v6.0.151.0 on Jun 28, 2012
Remove it,and never install again :)
nvic reviewed v5.0.285.0 on May 27, 2011
Best tool McAfee makes.

McAfee's security products used to be decent, but they've gone the way of Norton and are now bloatware.
bobad reviewed v3.5.109.1 on Jun 22, 2010
IT's fitting that McAfee's (and Symantec's) most popular software are tools to dislodge them from your system.It's unconscionable that developers with 20 years of experience can not create an effective Windows uninstall routine. 5 stars for the removal tool, 1 star for their security products.
cekicen reviewed v3.5.109.1 on Jun 21, 2010
best mcafee software ever :)
some guy reviewed v3.0.128.8 on Jan 8, 2010
pretty sad if you use McCrappies or Nortons you need a tool to remove them
therube reviewed v3.0.128.8 on Jan 8, 2010
(Not verified but ...)

Using McAfee Consumer Product Removal Tool

· Double click the MCPR.exe
· A Command Line window will be displayed, and then close automatically.
· Wait for a second Command Line window to be displayed. Note: Do not double-click MCPR.exe again, you may have to wait up to 1 minute for the next window to appear.
· After the second window appears, the program will begin the cleanup.
· Observe the installation, which could take several minutes. The following message will be displayed in the Command Line window: The machine must reboot to complete the un-installation. Reboot now? [y.n]
· Press Y on the keyboard.
· Wait for the computer to restart.
· All McAfee products are now removed from your computer.
yountmj reviewed v2.0.155.1 on Aug 16, 2008
This along with Symantec's removal utility is indispensable at our shop for getting rid of OEM pre-installed security software on new PCs and notebooks. It saves a lot of time on the bench by not having to uninstall 3 or 4 separate portions of these suites (with a reboot after each one usually) before they're "completely" removed.
PatrickDeSutter reviewed v2.0.145.3 on Aug 1, 2008
Both Symantec and McAfee now offer there ultimate tool : An uninstaller.

ROTFL.
iknowyouknow reviewed v2.0.145.3 on Jul 31, 2008
Great, a way to
get rid of it
dracodos reviewed v2.0.145.3 on Jul 31, 2008
I think it's a sad day when a seperate removal tool is required to uninstall a program that has it's own ineffective removal process. It does what it should but it's still sad...