Publisher's Description
Media Player Classic - Home Cinema is a Media Player Classic mod design for homecinema usage.
Media Player Classic is an extremely light-weight media player for Windows. It looks just like Windows Media Player v6.4, but has many additional features. It has a built in DVD player with real-time zoom, support for AVI subtitles, QuickTime and RealVideo support (requires QuickTime and/or Real Player), and lots more.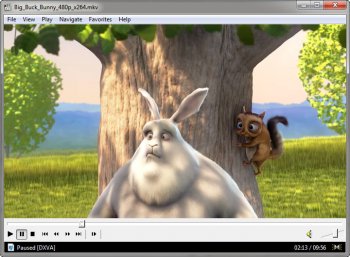 View Full-size
Latest Reviews
Zootopia3001 reviewed v1.7.11 on Mar 15, 2017
This hasn't been updated on SourceForge for a couple versions now. I like to get the standalone filters to go with the player but all that's available now is for version 1.7.9 along with its accompanying older version player. This new version player also no longer plays well with Shark007's codecs, which I use on my home theater system PC. The player now crashes on DVD movie play right off the bat and the AC3 audio on any video file has a funny noise that pops up in the background off and on, and may or not be related to the Shark007 codecs package install. I have now switched to MPC-BE instead, which works well with Shark007 codecs. The only thing this player has going for it now is the subtitle download capabilities, of which MPC-BE sorely lacks, so I keep MPC-HC on hand just in case I need to download a subtitle file for a movie if needed, although I could just do that directly online to Subscene, Subscene has never failed to provide a subtitle file for a movie, especially for foreign language parts only.

Unless you're using K-lite codec pack, look elsewhere for a player. As mentioned above, MC-BE works well, and VLC payer is another option, that has most all the internal codecs you would most likely need.

3 stars, but only being that it could work well with K-lite codec pack, a codec pack I personally don't care to use
LakotaElf reviewed v1.7.10 on Nov 23, 2015
Excellent software and works great, does as it says it will do, I have no problems with this at all.

And I got this version a week ago, how come beta news is so slow with updates these days?????
newbizk9 reviewed v1.7.8.230 Beta on May 29, 2015
this media player will take place other players http://crickprediction.com/
CyberDoc999 reviewed v1.7.7.90 Beta on Nov 5, 2014
Now you can use this with smooth video project! IF you PC can handle it
60 frames per second ooh la la!
CyberDoc999 reviewed v1.7.7.90 Beta on Nov 5, 2014
Now you can use this with smooth video project! IF you PC can handle it
60 frames per second ooh la la!
BANDIT- reviewed v1.7.3 on Feb 6, 2014
I used this for many years, but for some reason It went Sticky during
a Fast Search/Seek in .flv files..... I had to switch to KMplayer...
Sorry @MPC-HC ..... You're only an alternative now .. 3*

Anyone else got Issues with Fast Seeking thru .flv files..??
VideoReDo H264 is the best.. Incl Frame accurate Editing & V.fast ReCode
Zootopia3001 reviewed v1.7.0 on Sep 30, 2013
Went back to MPC 1.6.2. Later versions have no center channel sound. Couldn't find an option to set to 2.1 stereo. Guess the new folks at MPC assume everyone has 5.1 theater speakers for their rig.

Once the original developer left, versions since 1.6.2 have been bells, whistles and tinkering more than anything else.
some guy reviewed v1.7.0.7670 Beta on Aug 1, 2013
Great player this and the k-lite codec pack is a must have, only complaint I have is it does not play nice with some DVDs navigation
inkowyouknow reviewed v1.7.0.7592 Beta on Jul 13, 2013
Still the best from the original media player classic that saw off the disastrous ad riddle real player to where we are today, this is the best.
Zootopia3001 reviewed v1.7.0.7592 Beta on Jul 11, 2013
Even though I have personally switched to the MPlayer/SMPlayer combo, I give this player 4 stars. Installed with the Mega Codec Pack it should play almost anything, if not everything. The only drawback for me is that I cannot use this player to view content on an HDTV via s-video cable. Screen is blank, only volume. I now use SMPlayer as my default player to achieve this. QuickTime can do it too, but QuickTime Player is very limited nowadays.