File Details

File Size
12.8 MB
License
Shareware, $39.95
Operating System
Windows 2000/Server 2003/Vista/XP
Date Added
September 1, 2011
Total Downloads
26,045
Publisher
He Shiming
Homepage
MediaMan
Publisher's Description
MediaMan let you create and organize your own media catalog. It combines the capabilities of managing all kinds of media, including books, DVDs, CDs, VHS tapes, software and game titles. Managing a media collection is finally pain-free. With MediaMan, you can make use of the automated content retrieval function to create your digital catalog without typing. Keep an eye on borrowed and rental items with the status management feature. Plus, you can export your collection to web pages or even images to share with your friends.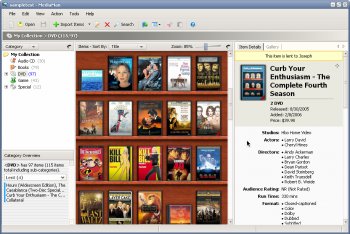 View Full-size
Latest Reviews
Gerhard reviewed v3.0 Build 1020 on Sep 22, 2008
Update of my review for version 3.0, which in fact, has failed to impress me in any way, the new interface resembles Vista Explorer, which, in my personal opinion, i don't like. Toolbar\menu is gone as well,so i don't see where to set options.

Not a fan of skinned applications (still use media player classic and foobar for example), the new non-client area of the window looks like Vista and out of place in my XP box. Having a built in media player, is also superfluous (at least to catalog DVD's)

And the price is still expensive. Still looking for a good DVD catalog application
Antichrist reviewed v2.66.3 on Mar 9, 2007
I tried it, but if you're gonna pay for a program like this, it's tough to compare to the Collectorz products.
Gerhard reviewed v2.51 on Jun 19, 2006
By far the best DVD Cataloging program (I don't like the confusing interfaces of the other ones).

However is not perfect.
- The price is too high for something which one would do as a hobby (when an excel sheet or a txt file do the job) particularly after being free for some time.

- IMDB Importing would be a big plus.

- Keyboard support in the shelf view would be nice as well, if you press a "P" for example it does nothing when it should go items beginning with "P"

- Lack of customization on what is shown in other view modes does not

I still use the free version, and a recent test on the latest version did not tempted me to buy the license. But I'll keep checking, I would like to reward the author, but I don't think a cataloging program should cost so much.
Blaxima reviewed v2.33.4 on Feb 22, 2006
Don't know which came first but this looks just like a mac program called Delicious Library, which costs $40 too...hmmmm
This one doesn't quite have the polish that DL has but I like it and I prefer having one program for all my books, games and dvd's rather than a single program for each like the collectorz.com approach. Just wished it would allow me to choose the sites to get info from rather than all amazon.com sites but that and a few more features keep this from being a 5.
Thanx "aerthling" for the link to the free version
aerthling reviewed v2.33.4 on Jan 2, 2006
Nice software, rubbish price.

Get the last free version here.
bbbc reviewed v2.33.3 on Dec 18, 2005
Anyone know the exact archive name of the last freeware MediaMan version 2.2.1?
photonboy reviewed v2.33.3 on Dec 17, 2005
Great program, but I won't pay for it. I still have the final version (2.2) before they began charging and it still does the job.

Version 2.2 may be available on a torrent site and would be perfectly legal.

(FYI, sometimes there's an error on first starting any version where the database file (forget name) can't be opened. simply save/make another database file and the error should never recur)
dpfulg reviewed v2.32.1 on Nov 15, 2005
Very decent programm. I like to browse my DVD collection using the bookshelf approach provided by MediaMan. Too sad it left the freeware path and turned into a at 40$ overpriced sharware. I'll continue using the old version for as long as it is working. Then it's goodbye MediaMan.
To photonboy:

Don't expect Picasa to charge. The software is run by Google and we all know how Google is pushing for open source, and free programs.

THEY WILL INDEX THE WORLD!! AHAHA!
hkm reviewed v2.30.1 on Oct 4, 2005
Yipes! From decent freeware to $40 $hareware in no time! Another one bites the dust! Guess I'll stick with my freeware vers. BTW, the SW doesn't add all that much functionality, improvements for your $40. Now, I don't mind paying/donating for good freeware, I often do, in fact, but this one seems to have gone from Zero-to-40 pretty fast!