File Details

File Size
1.0 MB
License
Adware
Operating System
Windows 7/Vista/XP
Date Added
August 22, 2012
Total Downloads
351,841
Publisher
Yuna Software
Homepage
Messenger Plus!
Publisher's Description
Messenger Plus! is an add-on for Windows Live Messenger which adds lots of features and extras that make your instant messenger easier, more useful or just tons more entertaining.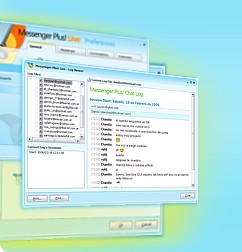 View Full-size
Latest Reviews
gatorfan95 reviewed v5.50.0.763 on Aug 22, 2012
User beware. This is Malware. It's too bad I have to give it a star to post this. Beta news should revoke this guy's right to put software on the site.
Music4Ever reviewed v5.50.0.761 on Jul 26, 2012
I've used MSN/Live since day one & haven't tried Messenger Plus! for some years: I wasn't impressed then & I'm not now, it attempts to access the net multiple times & will take you to junk sites to add the plugins etc.After uninstalling it messed up my Live installation & required a full image restore.

You can opt out of the initial toolbar installation but that's only the beginning, it then resets this & attempts to install garbage. It seems to offer a lot but unless you allow it to install crap from who knows where you get nothing.

It doesn't even add anything remotely useful & it's main aim seems to get you involved in the 'Plus! Community' which seems to consist of tacky garbage winks, emoticons, skins etc.from dubious sources. If you don't have a rule based Firewall you will have no idea what this program is up to & you are leaving your system wide open - Be warned.

No stars & that's overrating this piece of closet spyware ~
ZenoLabs reviewed v5.50.0.761 on Jul 26, 2012
s***ware
gatorfan95 reviewed v5.50.0.761 on Jul 26, 2012
Unless this app has changed, it's full of mal ware, spam ware and hijackers. Be very careful when you install it.
AleeJay reviewed v5.10.0.750 on Oct 27, 2011
I thoroughly enjoy Messenger plus. There are enough time saving apps to allow you to spend even more time on time-wasting games ;-). All jokes apart, I can't remember ever having trouble with it. It's fun and user friendly. and it helps keeps an ADHD employee, such as my self, focused at work. Also, it doesn't clog up the CPU. You wont hear any complaints me.
Nathalieyuna reviewed v5.10.0.746 on Sep 14, 2011
Messenger Plus! is no longer called Messenger Plus! Live. The latest version, 5.10 is compatible with both Windows Live Messenger 2009 and 2011. Besides the traditional features that is famous for (multiple accounts, Lock Messenger, skins and scripts (now called plugins), sounds, emoticons, it has a brand new "Skin Designer", where you can create skins all by yourself, in just a few clicks. A lot of the popular skins have also been updated for 2011, and are available for download on the home page. The software is still free and safe to use, if downloaded from the official site.
asaenz reviewed v4.90.392 on Jan 28, 2011
Wouldn't work in my "limited user" account. I use that to help prevent malware and that is more important to me than the features this offers so goodbye Messenger Plus!
daianax reviewed v4.85.386 on Aug 18, 2010
Nice! I love Messenger
! Thanks for sharing.
And| reviewed v4.85.386 on Jul 27, 2010
I have not been able to find the plus features yet. If they are there ??
some guy reviewed v4.85.386 on Jul 26, 2010
awesome twice the bloat and 3 times the advertisement !