File Details

File Size
7.5 MB
License
Freeware
Operating System
Windows 2000/Server 2003/XP
Date Added
February 14, 2007
Total Downloads
89,681
Publisher
Microsoft Corp.
Homepage
Microsoft ActiveSync
Publisher's Description
Microsoft ActiveSync is the latest sync software release for Windows Mobile-based devices. It provides a great synchronization experience with Windows®-based PCs and Microsoft Outlook right out of the box. ActiveSync acts as the gateway between your Windows-based PC and Windows Mobile-based device, enabling the transfer of Outlook information, Office documents, pictures, music, videos and applications to and from your device. In addition to synchronizing with a desktop PC, it can synchronize directly with Microsoft Exchange Server 2003 so that you can keep your e-mail, calendar data, tasks and contact information updated wirelessly when youâ??re away from your PC.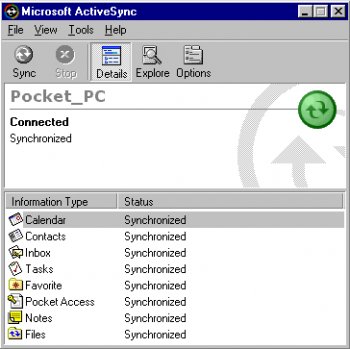 View Full-size
Latest Reviews
eacmacro reviewed v4.5 on Nov 4, 2007
I, too have experienced the same "breakage" when simply trying to install ASync to "fix" the time-change issue. Little did I know that the installation of 4.5 would BREAK EVERYTHING! I can't sync my P/PC now and in my line of work this is very necessary. Thanks a lot Microsloth!
Vimes reviewed v4.5 on Feb 15, 2007
Works fine for me with zero problems. Does everything that I would expect it to do and does it very well.

Great application
Daddy_Spank reviewed v4.5 on Feb 15, 2007
No problems here...
PostDeals reviewed v4.5 on Feb 14, 2007
Micrsoft's philosophy

If we break it you will pay.. (pay for upgrade, fix, support etc.)
rcutnik reviewed v4.5 on Feb 14, 2007
By reading the README.DOC (microsoft.com), there are several drawbacks when installing ActiveSync 4.5 that prefer to keep with 4.2.
mjm01010101 reviewed v4.5 on Feb 14, 2007
Going from 4.2 to 4.5 BROKE my SYNC!

UNACCEPTABLE!
drumcat reviewed v4.5 on Feb 14, 2007
This is not release candidate stuff. This is junior SDETs getting their feet wet.

"Oh ya, I guess we better update that."

For those of you who end up with error 85010014...
http://cityofrain.com/?p=732
stopbuggingme reviewed v4.5 Beta 2 on Nov 19, 2006
Very unstable version. Version 4.2 works ok, but not this beta.
stisev reviewed v4.5 Beta 2 on Nov 5, 2006
The last USABLE version was ActiveSync 3.8.

What the HELL are you doing to our software, MS?
sirhardi reviewed v4.5 Beta 2 on Sep 25, 2006
Gotta agree here, not only does it crash BUT still no not possible to have two different items synched.
1 PDA
1 Smartphone "WM5"
Not only rthat but if there is unresolved items, clicking resolve, ALWAYS gave you a choice via pop up as what you want to do..replace pc info or Device info.
This is no longer the case.
Removed and back to 4.2