Publisher's Description
Microsoft Baseline Security Analyzer (MBSA) analyzes Windows systems for common security misconfigurations. MBSA includes a graphical and command line interface that can perform local or remote scans of Windows systems. MBSA runs on Windows 2000 and Windows XP systems and will scan for missing hotfixes and vulnerabilities in the following products: Windows NT 4.0, Windows 2000, Windows XP, Internet Information Server (IIS) 4.0 and 5.0, SQL Server 7.0 and 2000, Internet Explorer (IE) 5.01 and later, and Office 2000 and XP.
MBSA uses a version of HFNetChk to scan for missing hotfixes and service packs for Windows, IIS, and SQL Server. MBSA will create and store individual XML security reports for each computer scanned and will display the reports in the graphical user interface in HTML.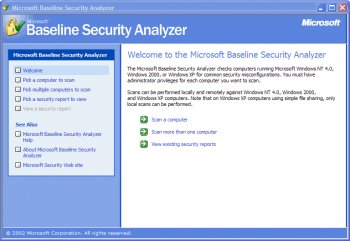 View Full-size
Latest Reviews
neogator reviewed v2.1 on May 11, 2008
MBSA 2.1 offers Windows Vista and Windows Server 2008 compatibility, a revised user interface, 64-bit support, improved Windows Embedded support, and compatibility with the latest versions of the Windows Update Agent (WUA) based on Microsoft Update.
-Lord- reviewed v2.1 on May 6, 2008
Lack of vista support.
stevetures reviewed v2.0.1 on Nov 9, 2006
As a budding security prof., this tool is constantly listed as a useful tool in many cases. It wasn't originally written by M$ either(a confidence statement in my book).

Using it is easy, which is how it should be since M$ is everywhere and there's no guarantee that their admins are capable.

From what I read, this is a minor update that makes it more compatible with the latest Windows Update def.-type file (a bugfix).

And it gets a 4 in my book since there are better tools out there (Nessus anyone?)
Aegis69 reviewed v2.0.1 on Nov 9, 2006
What could Microsoft possibly know about securing a computer system?
Mark Gillespie reviewed v2.0.1 on Nov 9, 2006
Quite good, got a bug with MDAC reporting thou, as it constantly tells me I need a MDAC update, but when I run the MDAC update it requests, it says I already have a newer version!! Doh..

No way to get a clean bill of health from it...
phiber0ptik reviewed v2.0.1 on Nov 9, 2006
The MAZZTer, Linux is a security risk :) I mean, you can maount your NTFS-partition within linux and rip all those nasty docements from whatever account :p You can even reset passwords for all the accounts. Well um... this is more of an enterprise-concern, since the owner of the computer probably know he has linux installed :D
The MAZZTer reviewed v2.0.1 on Nov 8, 2006
Very nice tool. 5/5

But -2 for labeling Linux a security vulnerability. Admittedly a slight exaggeration, but not too much. All non-NTFS drives are labeled as security vulnerabilities... since Linux cannot be booted from NTFS, and good NTFS drivers are only recently maturing, this effectively means Linux partitions will be marked as vulnerabilities.

This might only appear for me because I have an EXT2FS driver for Windows; the warning probably would not appear otherwise.

This tool will get 5/5 from me if and only if it changes the check to check for FAT (which is probably what it's SUPPOSED to check for) instead of not-NTFS.
uberfly reviewed v2.0.1 on Nov 8, 2006
mmatheny, yes, and it works great. Maybe you should try again. You know, more than one try. Give it another go and such.
mmatheny reviewed v2.0 on Jul 5, 2005
Well, cannot load the catalog from either my WSUS server or MS download servers - that makes this product half-baked. Anyone got it to download the catalog?
Crypton reviewed v2.0 on Jul 5, 2005
While they are trying to make some great improvements to this security analyzer, the program itself has become buggy. Tested it here in my labs on fresh installs on various system setups and out of 20 machines, 5 received errors even detecting the local machine when the program was launched (manually typing in the workgroup and machine *eg. Workgroup\Machine1* is a workaround for the error)

3 other machines built using some older tested good hardware running various OS's in the dual boot environment including 2K, 2k3, and XP received various errors and mis-detected security risks.

The other machines had some detected security risks that are normal on Baseline, since it detects the service as being there but even if set to disabled it lets you know the service is there and could be at risk (if enabled)

I will have to settle at a score of 4 as these mis-detections can make some users nervous and the buggy detection of the local machine when it is clearly specified in Windows should be looked into.

Over all the update is much needed and a step in the right direction.