Other Versions
Publisher's Description
Internet Explorer has been designed to make everyday tasks easier, provide dynamic security protection and improve the development platform and manageability. End user improvements include a streamlined interface, tabbed browsing, printing advances, improved search functionality, instant feeds (RSS), dynamic security protection, and more.
Internet Explorer provides improved navigation through tabbed browsing, web search right from the toolbar, advanced printing, easy discovery, reading and subscription to RSS feeds, and much more. It also provides security through a robust new architecture, security features that help defend against malicious software, and new ways to better protect against the theft of personal data from fraudulent websites. It has improved support for cascading style sheets, a rich RSS feeds platform, and robust tools for deploying and managing Internet Explorer 7 in large enterprise environments.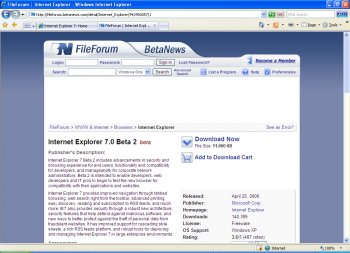 View Full-size
Latest Reviews
jessicabrown reviewed v8.0 on Aug 24, 2011
It's works good but still not the best.
swiggy reviewed v8.0 on Dec 30, 2010
Why not using Avant browser which based on IE?It's fast and easy to use,of course I choose it instead of IE due to its stability and compatibility.
elfsun reviewed v8.0 on Nov 15, 2010
If you like Trident Engine ,I suggest use the Avant browser.The download is relatively small, the interface is extremely stable, mouse gestures and dockable tabs. Pop-up and ad blocking are excellent. The ability to block ActiveX, images, Java, and more "on the fly" is superb.
CyberDoc999 reviewed v8.0 on Sep 16, 2010
worst browser ever made
sslvp1 reviewed v8.0 on Jul 4, 2009
IE 8 opinion

Quoting Lakotaelf:

"Many of these reviews here are of no value at all for all they do is slam and give no details, wow, even a dope can do that."

Read your own review LakotElf and you will perhaps see that all it does is praise and gives no details, wow, even a dope can do that!! At the end of the day a browser needs to be user friendly not geek friendly and Firefox and Google Chrome both do that (alhough Googles customer support is not the greatest). In my experience IE 8 is a crock of "something less than good" and I actually prefer IE7. No details..rather like YOUR review. But then I don't claim or infer that I'm an expert, just a user. Personally I have uninstalled IE8 and will rely on Firefox, Chrome and IE7 (mostly Chrome). To go a little further than you did in your less than informative post, I would simply say that the Customer Support experience after installing IE 8 left one hell of a lot to be desired, and customer service was something I required rather a lot of given the endless problems experienced with IE8. Yes it may have been my configuration, but I sure as hell didn't receive any good information that would have led to me making an informed decision on that!
jeck reviewed v8.0 on Mar 30, 2009
It was so good of "Banquo" to let us know that this browser is no longer called Internet Explorer. I do, however, find it interesting that he failed to tell us what it is now called.
Well, he is right, someone needs to get with the program, and perhaps it is Microsoft themselves. I just visited the Microsoft website and someone has failed to mention to them the fact that it's no longer called Internet Explorer because that's what they're calling it.
I gave it a very generous 4 because of it's increased start up time and speed in general, but other than that it's still Internet Explorer and Microsoft in fact does need to get with the program if IE is to compete with the likes of Firefox, Maxthon, Opera, and others. It's still IE just a bit faster which is a step in the right direction but not the total solution.
marsovac reviewed v8.0 on Mar 26, 2009
OK by now everyone should be familiar that some antispyware programs (Spybot Search & Destroy / Spyware Blaster) are NOT COMPATIBLE with IE8 (RTW). So if your system became very slow, or you get often 100% CPU usage, all you need to do is to switch the immunization off in above mentioned:
- Spybot Search & Destroy / Immunize / UNDO
- Spyware Blaster / Disable all protection

And voila everything is back to normal, IE8 (and all other applications) are fast as they were supposed to be!
jr5280 reviewed v8.0 on Mar 20, 2009
Updating from IE7 to IE8 went smoothly, and IE8 has so far shown itself to be much faster and smoother in operation than IE7; in fact, it's nearly as fast as Opera and K-Meleon on my computer. Start-up time, too, is much faster than before. As far as I can tell, the update has been all for the good, with all pluses and no minuses -- a rare accomplishment for Microsoft in my experience. (I'm just Joe Average browser user, not a power user, so there may well be some minuses that I simply haven't encountered.)

IE8, like all of its IE predecessors, is a spyware-cookie magnet, and the user interface, like that of IE7, is terribly clunky & inelegant and short on useful conveniences and customization options. Fortunately, the admirable Maxthon Classic shell/interface works well with IE8's inner workings.

Using IE8 with the poorly designed Microsoft interface is an inconvenient and somewhat frustrating experience despite the browser's newfound speed. Using IE8 with the Maxthon interface is a much more tolerable experience altogether. I like Opera's user interface better still, but Opera is let down by its much-noted inability to properly handle certain Web pages.

I dislike the Microsoft interface so much that I can only give IE8 a 3-star rating at best. I'd give an IE8-Maxthon partnership a solid 4 stars, however.
Banquo reviewed v8.0 on Mar 20, 2009
I installed it just for the security updates, I still use Firefox though. I can't believe they didn't fix the UI. Everyone hated the new interface in IE7 but Microsoft thinks they know better than their customers. It's faster than IE7 at least.

By the way, it's not called Microsoft Internet Explorer anymore and hasn't been for several years. Come on Betanews, get with the program.
LakotaElf reviewed v8.0 on Mar 20, 2009
Have installed this browser V8 final and it installed just fine, noticed no problems at all or no slowdown at least on my computer. It is fast, faster than Firefox and again, at least on my machine. I have never seen IE load this fast before. I am pleased with it as it seems to not slow down anything at all and works as it should.

For those of you having problems, it probably is your machine or configuration. For those of you who dislike Microsoft, then do not use it. Many give bad reports here and they have not the slightest idea what they are talking about. Many dislike Microsoft for it seems to be the fashion for some to hate everything that they do not understand.

THIS BROWSER is fine and it works correctly and is fast. If you do not know how to work with software then get help, stop slamming something you do not understand. Many of these reviews here are of no value at all for all they do is slam and give no details, wow, even a dope can do that.