Other Versions
Publisher's Description
Microsoft Security Essentials provides real-time protection for your home PC that guards against viruses, spyware, and other malicious software. It is a free download from Microsoft that is simple to install, easy to use, and always kept up to date so you can be assured your PC is protected by the latest technology. It's easy to tell if your PC is secure — when you're green, you're good. It's that simple.
Microsoft Security Essentials runs quietly and efficiently in the background so that you are free to use your Windows-based PC the way you want—without interruptions or long computer wait times.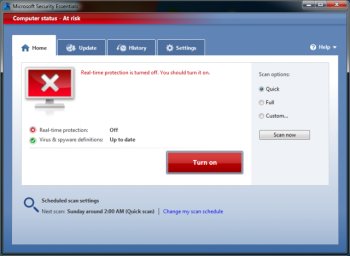 View Full-size
Latest Reviews
Aegis69 reviewed v4.8.0201.0 Pre-Release on Mar 19, 2015
Lol all the windows 8 machines have this built in now and that Still come into the shop every day with tonnes of viruses on them. The people who hack windows are so far ahead of microsoft that it makes them look like a joke. MS should consider making a new OS based on unix/linux to get their security problems under control once and for all. Apple is a group of complete ret&rds and yet they were smart enough to figure this out over a decade ago. Google decided to build a new OS from scratch and guess what kernel they used, oh ya Linux. Wake the hell up Microsoft you morons.
RogerC reviewed v4.7.0202.0 Pre-Release on Jan 9, 2015
Please note this application does NOT run under Windows XP.
Sven123456789 reviewed v4.7.0202.0 Pre-Release on Dec 15, 2014
Maybe I'm losing my memory these days. But I thought I read earlier this year they were discontinuing this.
Blaxima reviewed v4.6.305.0 on Nov 17, 2014
Poor detection and removal. Slows your computer down far too much as it scans every program you open
AL-Matary reviewed v4.6.305.0 on Sep 21, 2014
nilst2006 reviewed v4.6.0302.0 Pre-Release on Aug 23, 2014
Poor detection of malware/viruses/trojans !
ShahinD reviewed v4.6.0205.0 Pre-Release on Jul 8, 2014
Very Good Antimalware, Light and effective
Zootopia3001 reviewed v4.4.0304.0 on Nov 11, 2013
May be good at guarding the PC,(while slowing it down), but not so good at removing infections, especially the rootkits involved. If you're going to slow your PC down with realtime security software, get something that can also remove what it is guarding against.
Aegis69 reviewed v4.4.207.0 Pre-Release on Sep 10, 2013
This would be great if I still used windows... I don't. Know windows, no security.
Zootopia3001 reviewed v4.2.223.1 on Feb 27, 2013
Have tried this I don't know how many times. Same result: VERY heavy on the PC with its background service running. Besides, realtime A/V software is really only for the internet clueless. I've learned to live without traditional system realtime A/V(spyware and malware) software protection and am doing just fine thank you, and the PC rewards me in return with the utmost speed.

BTW, this software keeps dragging down your system even when you turn off its realtime protection because of its constantly running background service.