Publisher's Description
Microsoft Windows Live OneCare is a comprehensive and integrated PC health service that helps protect and maintain your computer with antivirus, firewall, PC maintenance, and file backup and restore functionality. This new service is in beta testing.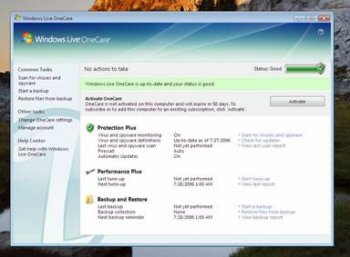 View Full-size
Latest Reviews
stevvie reviewed v2.5.2900.28 on Aug 27, 2009
OMG, What a long winded and UN-intuitive piece of software. This TOTALLY hosed my network up. I had to do a system restore to get it back. Also is Microsoft in partnership with the Memory manufacturers ? This thing eats memory like it's going out of fashion.
shallot reviewed v2.5.2900.28 on Aug 27, 2009
Been using it for a month now and works pretty well. By far the best firewall I have seen..I wish MS enables this firewall in the OS by default.

This uses the same engine as "Morro" and this is as good as any of the big names...
sn0wflake reviewed v2.5.2900.28 on Aug 27, 2009
Timeout on a product that should be free of cost. Imagine buying a car and have to buy seatbelts, airbags, good brakes, etc. later on :P
dougau reviewed v2.5.2900.24 on Mar 25, 2009
Things that make you go "Humm"
roberttucker reviewed v2.5.2900.24 on Mar 25, 2009
april 30 this will be discontinued
paulm84 reviewed v2.5.2900.24 on Mar 25, 2009
it's being discontinued in a few months. so don't even bother using it
reidyn reviewed v2.5.2900.22 on Mar 17, 2009
Why is this still being marketed? The product has been scheduled for discontinuation and the antivirus portion is to be made available for free. Who would buy this now? I don't get it.
CyberDoc999 reviewed v2.5.2900.20 Beta on Nov 12, 2008
slow... buggy...
TomA102210 reviewed v2.5.2900.20 Beta on Nov 10, 2008
This time around I put the evaluations in the hands of the Windows Secrets staff and they gave OneCare a positive review. That was good enough for me. Maybe it's not stellar, but their review this last time around gave it a lot of positive strokes.
eclipsingdivinity reviewed v2.5.2900.15 on Oct 8, 2008
Fantastic piece of software that is both stable and easy to use. I run it both my Mom's and Sister's PC as well as mine. I'm able to monitor their security status. They both enjoy the program, certainly worth the money...best of all it's light and doesn't conflict with other programs, possibly because it's Microsoft made.

The downside is that it doesn't include kitchen sink features, and it only monitors IE7. However the kitchen sink method always creates slowdown and the basic features in Onecare are more than enough for average user. The monitoring of IE7 is also a good thing, because even if you don't use IE7, a lot of programs including spyware do.